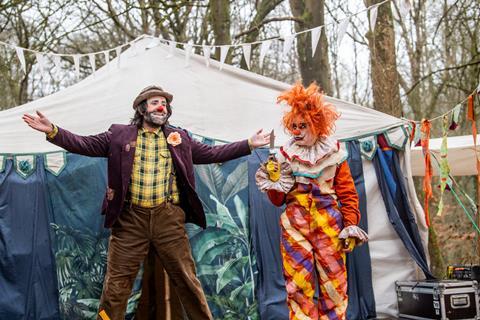 A lively edition of Ireland's Galway Film Fleadh drew to a close last night (July 16), with George Kane's anarchic comedy Apocalypse Clown bagging the prize for best Irish film, while Patricia Kelly's buzzy low-budget feature Verdigris took home the best independent film accolade.
Apocalypse Clown – sold by Charades and to be released by Vertigo Releasing in the UK and Wildcard in Ireland – stars Brian And Charles actor David Earl as part of a troupe of clowns who, alongside Amy De Bhrún as a journalist with big ambitions, venture across Ireland during a freak electrical blackout. The idea for Apocalypse Clown was first conceived by the filmmaking team 10 years ago over some drinks at the Fleadh. Wildcard's Patrick O'Neill reported two sold-out performances of the film.
Verdigris was made in three weeks on a €50,000 budget by Kelly and producer Paul Fitzsimons. Kelly and Fitzsimons received no support from national funders, raising the finances themselves. It tells the story of the unlikely partnership between a middle-aged, middle-class census enumerator and a teenager who is slipping through society's cracks.
Scroll down for the full list of feature award winners
Further winners include Agnes O'Casey who took home the Bingham Ray New Talent Award. She stars in two films in the festival line-up, opening night film The Miracle Club and Lies We Tell, both sold by Embankment.
A hot topic at the festival was the SAG-AFTRA strike, which was called as the festival was getting underway. Stars of The Martini Shot Matthew Modine and Fiona Glascott took a last-minute step back from promotion of the film during the premiere on Thursday (July 13) night. Further films impacted included closing night film, documentary Let The Canary Sing, in which the film's subject singer Cyndi Lauper dropped out of an in-person Q&A (she is understood to be SAG-AFTRA affiliated), and the premiere of Will Gilbey's Jericho Ridge.
"Solly McLeod and Zack Morris are both SAG members and obviously could not attend due to the timing of the SAG-AFTRA strike," noted Gilbey. "I am in full support of both unions and what they are bargaining for. The short-term inconvenience to film and television production pales into insignificance when compared to how these industries will be affected if the WGA and SAGAFTRA don't fight for what is necessary."
For those working on films shooting in Ireland, the approach seemed to be keep calm and carry on, at least for now, with word on the street that all Screen Ireland productions are keeping cameras rolling, and international projects, such as Ishana Shyamalan's The Watchers, also tentatively pressing ahead.
Another point of conversation at the festival was the city's near-constant rain, however Galway had plenty of draws to pull in the Irish industry and beyond to the festival, with attendees making the most of a plethora of networking events, local drag queen nights and a Galway pub's restoration of The Banshees Of Inisherin's iconic boozer. "It's beautiful here with an incredible vibe to this city and I've encountered nothing but very friendly, interesting and interested people wherever I have gone," said Gilbey.
"There's no ego in Galway"
Alongside the fleadh runs the Galway Film Fair, the industry arm of the festival. The marketplace offers a speed-dating style opportunity for filmmakers to meet with Irish and international decision-makers to discuss upcoming projects, with representatives from film sales and financiers such Bankside, West End Films, BFI, Film4, XYZ Films, Neon, Magnolia Pictures, Studiocanal and Kinology, as well as festivals including Rotterdam, Tribeca, Toronto, BFI London Film Festival and SXSW.
One attendee, Bankside's Stephen Kelliher, said: "It's been the busiest and buzziest edition since before the pandemic. Even though it was back last year, this year it seems to be really back. There are so many producers here with really interesting projects. It's a vintage year.
"Galway has its own particular vibe, that I don't think I've seen recreated at any other festival around the world. People want to come because the calibre of attendees is really high, but it's done in such a non-pretentious way. Everybody is accessible. Yes, you can do a formal meeting in the fair, but you can also just walk up to somebody in the [Galway Film Fair hub, the Galmont Hotel] lobby or bar and have a meeting. That's its USP [unique selling point]. It would be a very different experience were it the Cannes film festival."
The winner of this year's best project at the marketplace, which is sponsored by Bankisde, was Barfly, from Chris Hees and Dan Thorburn of Bridge Way Films. The pitching award went to Eimear Morgan, with her project Billy Ruben + The Shunts.
LevelK's Mark Tucker added: "It is very well attended by all the major players in the Irish industry, and showcases the very best of Irish talent. It also provides an opportunity for emerging filmmakers who might not as easily be able to attend the likes of Cannes or Berlin to network and present their projects."
The marketplace had over 700 meetings across two days, up around 50-100 on last year.
Liz Quinn, Galway Film Fair manager, told Screen: "We were online during the pandemic. We still had a very good turnout, virtually. Last year was in-person and busy, but this year the appetite to meet face-to-face and one-on-one is very great. It feels fuller this year, compared to even pre-pandemic."
Industry panel sessions covered topics such as virtual production, sustainability and a particularly frank and moving discussion on neurodiversity in the screen industry, hosted by Eleanor McSherry, a scriptwriter and lecturer who has designed a programme to educate people in the screen industry on working with neurodivergent employees, herself being diagnosed two years ago with autism.
Galway Film Fleadh feature winners 2023
Generation jury award
Scrapper dir. Charlotte Regan
Best cinematography in Irish film
Lies We Tell cinematographer: Eleanor Bowman
World cinema competition
Past Lives dir. Celine Song
Peripheral Visions Award
The Land Within dir. Fisnik Maxville
Best international film
Here dir. Bas Devos
Best international documentary
One Bullet dir. Carol Dysinger

Pitching award
Billy Ruben + The Shunts, Eimear Morgan
The Galway Film Fair best marketplace project
Barfly, Bridge Way Films, Chris Hees & Dan Thorburn
Best Irish documentary
The Graceless Age – The Ballad of John Murry dir. Sarah Share
Best independent film
Verdigris dir. Patricia Kelly
Bingham Ray New Talent Award
Agnes O'Casey, The Miracle Club, The Lies We Tell
Best Irish first feature
Lie Of The Land dir. John Carlin
Best Irish film
Apocalypse Clown dir. George Kane