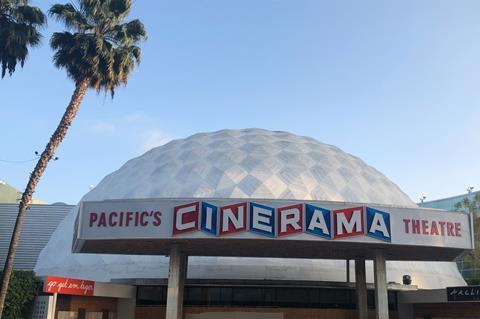 The pandemic has claimed a beloved exhibition casualty in the US as it emerged on Monday evening (April 12) that ArcLight Cinemas and Pacific Theatres have closed down.
The news sparked immediate speculation over whether a streaming platform or studio might step in and buy the Pacific Theatres chain, which is owned by Decurion Corporation and operated 16 sites and around 300 screens mostly on the West Coast.
Venues included Cinerama Dome, a Hollywood icon that opened on Sunset Boulevard in 1963 and made an appearance in Quentin Tarantino's Once Upon A Time In Hollywood, and, tucked away behind it, ArcLight Hollywood, a prestigious multi-screen venue that presented mainstream releases, arthouse programming, and awards season screenings and events.
The Pacific Theatres group, which encompassed The Grove multiplex in midtown Los Angeles, closed down a year ago when the US lockdown began. It was unable to recover from the ravages of a pandemic that has hit the exhibition sector particularly hard within the film industry.
The news sparked a wave of commiseration on social media. Knives Out director Rian Johnson, Moonlight director Barry Jenkins, Tim Burton's screenwriter John August, Joseph Gordon-Levitt, and Elijah Wood were among those to lament the chain's demise.
In an ironic twist of fate, the closure comes amid early signs of recovery. Warner Bros' Godzilla vs. Kong has grossed $70m in North America in two weeks to score the best box office result to date during the pandemic despite being available on HBO Max, while Los Angeles cinemas – among others around the US – have been cleared to open up to 50% capacity, and California heads towards a full reopening on June 15.
In a statement, Pacific said: "After shutting our doors more than a year ago, today we must share the difficult and sad news that Pacific will not be reopening its ArcLight Cinemas and Pacific Theatres locations.
"This was not the outcome anyone wanted, but despite a huge effort that exhausted all potential options, the company does not have a viable way forward.
"To all the Pacific and ArcLight employees who have devoted their professional lives to making our theaters the very best places in the world to see movies: we are grateful for your service and your dedication to our customers.
"To our guests and members of the film industry who have made going to the movies such a magical experience over the years: our deepest thanks. It has been an honor and a pleasure to serve you."