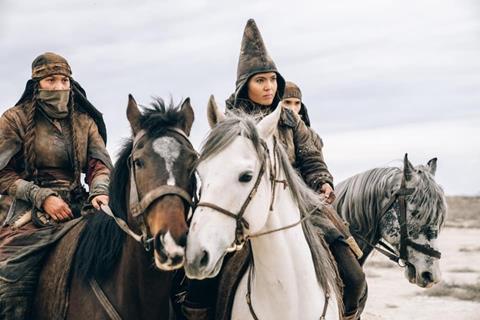 Gary Hamilton's Arclight Films has commenced talks here on worldwide rights excluding Kazakhstan to the central Asian country's Golden Globes foreign language entry Tomiris.
Akan Satayev directed the story of Queen Tomiris, who lived 2,500 years ago and created female warrior divisions to unite nomadic tribes in the central Asian region and was renowned for her strategic acumen.
Kazakh star Almira Tursyn plays the lead alongside Adil Akhmetov and Aizhan Lighg. Tomiris is a co-production between Kazakhfilm Studios and Sataifilm. The film was released in Kazakhstan on October 1 and according to Hamilton has become the highest grossing action film in the country.
"The story of Queen Tomiris is extraordinarily powerful, filled with heartbreak, loss, inspiration and victory," said Hamilton, who brokered the deal alongside Ying Ye on behalf of Arclight Films with producer Gaukhar (Gia) Noortas, who serves as the head of the Kazakh consulate in Los Angeles on behalf of Sataifilm and Kazakhfilm Studios.