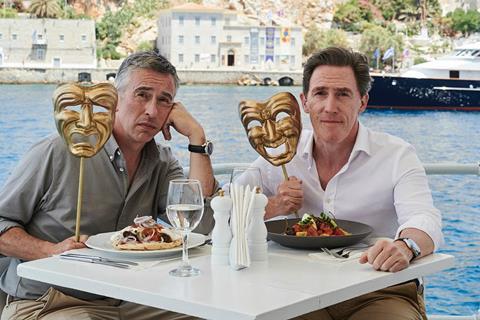 IFC Films has acquired US rights to Michael Winterbottom's The Trip To Greece, the fourth entry in the acclaimed culinary anthology series starring Steve Coogan and Rob Brydon.
Goalpost Film has concluded a raft of pre-sales on the film, licensing rights in Australia (Madman Entertainment), Canada (Elevation Pictures), Scandinavia (Non Stop), Latin America (California Filmes), South Korea (Challan), Middle East (Front Row), and Greece (Filmtrade). Cinesky acquired rights for global airlines.
IFC Films has earmarked a summer 2020 theatrical release for The Trip To Greece, its 11th collaboration with Winterbottom and the fourth episode in the Trip series after prior escapades in northern England, Italy and Spain. This time around, Coogan and Brydon embark on a six-day odyssey through restaurants and hotels in Athens, Hydra, Lesvos, Chalkidiki, Pelion, Kavala, and the Peloponnese.
Shooting locations range from the Temple of Apollo at Delphi, the Ancient Agora of Athens, the Ancient Theatre of Epidaurus, the island of Hydra, the Caves of Diros, the Palace of Nestor, the Fortress of Pylos (Niokastro), and Ancient Stagira.
Melissa Parmenter and Josh Hyams are producing the Sky original film for Revolution Films. IFC executive vice-president of acquisitions and productions Arianna Bocco negotiated the deal with Tristan Whalley of Goalpost Film on behalf of the filmmakers.
"We have travelled all over Europe with Steve, Rob, and Michael in what is the most successful and tasty independent franchise and we can't wait to present U.S. audiences with the latest trip to Greece!" said Bocco.
"The Trip films are a rare equation indeed, a truly unique and independent franchise that delivers on so many levels and continues to break new ground to make audiences laugh and cry around the world," added Whalley.
Madman Entertainment's Paul Wiegard said, "The Trip indie franchise, is without imitation in the world of independent distribution. It has been a journey Australian & NZ audiences have booked en masse. We are super excited to be part of the next chapter of the odyssey."
Lisa Schwartz, co-president of IFC Films, added, "We're so thrilled to add the fourth installment of a really successful franchise for IFC Films. It seems fitting as we enter our 20th year as a distributor to be able to join forces with such a central director in the IFC story."