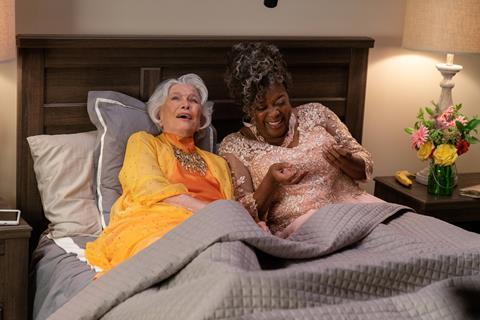 Comedy-drama Queen Bees (formerly At Last) starring Ellen Burstyn and James Caan has proved a hot seller as Arclight Films has tied up a raft of sales led by a multi-territory deal with MGM.
Arclight has licensed UK & Ireland, Germany, Italy, Switzerland, Scandinavia, Iceland, Middle East, Greece, Portugal/Portuguese-speaking Africa, CIS/Russia, India, South Africa, pan-Asian pay TV, Caribbean Basin and Latin America.
In further deals Kismet has acquired the film for Australia and New Zealand, Cannonball Films for Spain, and Monolith for Poland. Arclight previously licensed North American rights to Gravitas Ventures who released in cinemas and on VoD on June 11.
Michael Lembeck directed Queen Bees from a screenplay by Donald Martin about a fiercely independent senior (Burstyn) who temporarily moves into a senior citizen community while her home undergoes repairs. She finds herself in a hotbed of hormones and discovers it's never too late to make new friends and find love. Jane Curtin, Loretta Devine, and Ann-Margret also star.
The feature from Astute Films is produced by Harrison Powell, Dominique Telson and Fred Bernstein. Executive producers are Richard L. Jackson and Claudine Marrotte.
Arclight represents sales on TIFF market title Big Gold Brick and the current roster includes The Portable Door Christoph Waltz and Sam Neill, and Twist with Michael Caine, Lena Heady and Rita Ora.