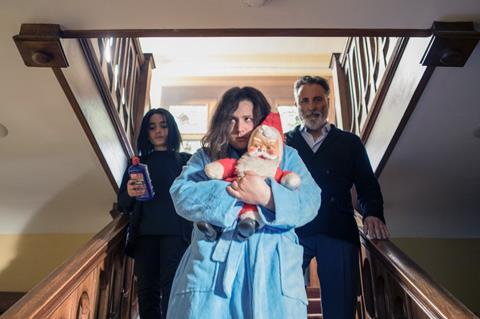 Arclight Films has picked up international sales rights on the completed dark comedy Big Gold Brick starring Andy Garcia and Emory Cohen and will launch sales at Toronto International Film Festival next month.
Megan Fox, Lucy Hale and Oscar Isaac round out the key cast on the feature directorial debut of writer-director Brian Petsos, who worked with Isaac on his shorts Lightningface and Ticky Tacky.
Cohen plays a down-at-heel writer who is commissioned by the patriarch of an eccentric family (Garcia) to write his biography only for the undertaking to descend into pandemonium. Samuel Goldwyn Films will release the film in North America.
Petsos produced Big Gold Brick through his A Saboteur production company alongside Greg Lauritano, whose upcoming survival thriller Borrego also stars Hale, Jonathan Bronfman (The Witch), Jason Ross Jallet, Sergio Rizzuto and Danny Sawaf. Executive producers are Isaac and Kristen Wiig (Bridesmaids).
"Big Gold Brick is a phenomenal and unique dark comedy with a superb ensemble cast – Andy, Emory, Megan, Lucy and Oscar are exceptional and have great chemistry," said Arclight chairman Gary Hamilton. "Brian is a rising talent and has delivered a fantastic film that is sure to resonate with international audiences."
"Gary and the fine folks at Arclight have been a part of some truly excellent films. And their tremendous enthusiasm for Big Gold Brick makes me incredibly happy to count them as our international partner," added Petsos.
Arclight Films' current sales slate includes The Portable Door starring Christoph Waltz and Sam Neill; thriller Wyrmwood: Apocalypse; rom-com Queen Bees with Ellen Burstyn and James Caan; and Twist starring Michael Caine, Lena Heady and Rita Ora.