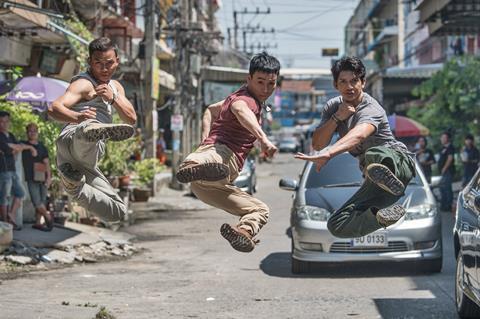 Arclight Films has closed a slew of territories on Jesse V Johnson's US-Chinese action thriller Triple Threat starring Celina Jade from Chinese behemoth Wolf Warrior 2.
As previously announced, Well Go USA plans a theatrical release for early 2018, followed by ancillary platforms, and will also distribute in the UK and Australia.
The film has also sold in Germany (Koch), Latin America (Swen), Italy (Movies Inspired), Portugal (Cinemundo), South Korea (Korea Screen), Japan (Klockworx), Middle East (Italia Films), and Greece (Spentzos). Rights have also gone in Turkey (Aqua Pinema), Vietnam and Malaysia (Rainfilm), and India (Viswaas Films). Netflix has acquired the film for Hong Kong, Myanmar, Cambodia, Philippines, Singapore, Thailand and Taiwan.
Tony Jaa, Michael Jai White, Scott Adkins, Iko Uwais, Michael Bisping and Tiger Chen round out the lead cast on the story about a team of mercenaries hired to defeat assassins dispatched to kill a billionaire's daughter on an anti-crime crusade. JeeJa Yanin and Michael Wong also star.
"The combination of our amazing cast, top martial arts experts and the high-quality filmmakers on this project have created a film that will set audiences alight around the world," said Arclight Films chief Gary Hamilton and fellow producer Ying Ye.
Shanghai Aurora Alliance, SC Films, and Hamilton Productions produced in association with Beijing Manyougu Company Ltd, and Kungfuman Culture Media.