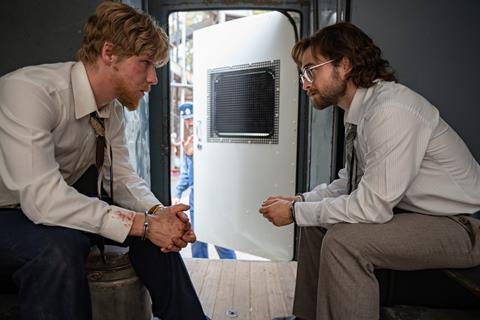 Gary Hamilton's Arclight Films has struck major new deals on the Daniel Radcliffe true-life prison break thriller Escape From Pretoria led by a sale to Signature in the UK.
Besides the UK, rights have also gone in Latin America (Turner). Additional recent deals include Benelux (DFW), Scandinavia and Iceland (Mis. Label), Italy (Minerva), Japan (AT Entertainment), Poland (Monolith), Portugal (Films4You), Turkey (Sayez Films), and Israel (Shoval).
Arclight previously announced completed deals with: KSM GmbH for Germany, Top Film for CIS, Inopia Films in Spain, Spentzos for Greece, Front Row Entertainment for the Middle East, Vietnam's Galaxy Studio, Viswaas for India, and CineSky Pictures for Airlines. eOne-owned Momentum Pictures will release Escape From Pretoria in the US in March 2020.

The Australia-UK co-production between Hamilton Entertainment, BeaglePug, Footprint Films, and Enriched Media Group is based on the life of political activists Tim Jenkin (Radcliffe) and Stephen Lee (Australia's Daniel Webber, The Dirt, 11.22.63, The Punisher) who were slung in jail in 1978 and branded as terrorists for their involvement in covert anti-apartheid operations for the African National Congress. As the high-security Pretoria Central Prison ramps up security, Jenkin and his comrades make wooden keys in a bid to break out.
The film also stars UK actor Ian Hart (Mary, Queen Of Scots, God's Own Country, Land and Freedom), Mark Leonard Winter (Pine Gap, Cleverman, Balibo) and Nathan Page (Miss Fisher & the Crypt of Tears, Miss Fisher's Murder Mysteries, Underbelly).
"Escape From Pretoria is an elevated and timely relevant thriller that will stand the test of time," said producer and Arclight chairman Hamilton. "All the partners who have stepped up to embrace this amazing film are top-notch and we could not be happier to be in business with companies who consistently deliver the best distribution results."
Escape From Pretoria marks Francis Annan's feature directorial debut from a screenplay he co-wrote with LH Adams, based on Jenkin's autobiography Inside Out: Escape From Pretoria Prison.
Hamilton and Michelle Krumm produce alongside BeaglePug's David Barron (Kenneth Branagh's Cinderella, Harry Potter, Mary Shelley's Frankenstein), Footprint Films' Mark Blaney (This Is Not A Love Song, Africa United) and Jackie Sheppard (Africa United). Arclight's Ying Ye is executive producer alongside Enriched Media Group's Philip Burgin, Mick Southworth, and Martin McCabe.
Filming took place on location in South Australia with financing from the South Australian Film Corporation and MEP Capital. Post-production took place in Melbourne, Australia, with support through Film Victoria's PDV incentive programme.