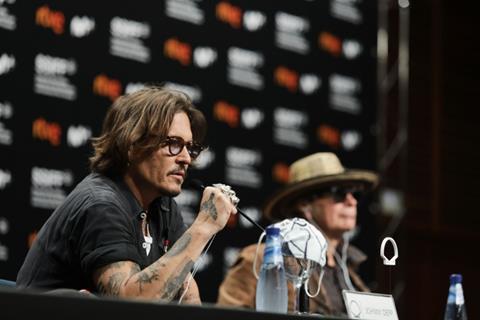 Film awards, clearly, are challenging on a theoretical level: how do you judge entirely separate things, united only by the fact they appear on the big screen (and not all of them do these days)? It's like pitting a rose against a carrot in the local fete on the grounds they both grow in the garden.
Still, awards festoon the film business, from Sundance in January to the extended jamboree we now call "awards season". Festival juries, national academies, critics, even "the people" choose their awards on a global level: lots of votes to go around and the majority wins. Backslaps all round.
But this column isn't about awards. It's about honours. After laudably strenuous attempts to forefront diversity — and maybe even because of them — the UK's Bafta made a poorly judged decision to honour Noel Clarke this year with an 'outstanding British contribution to cinema' award. After allegations of sexual harassment and bullying surfaced, the award was withdrawn and his membership suspended. Clarke, who has not yet been charged although police are investigating the complaints, later stepped down from his own company.
It was a cautionary story, complicated by a who-knew-what-and-when subplot. It's rare for someone to cop to being an abuser. Roman Polanski admitted to unlawful sexual intercourse with a minor, and then fled. Not even Harvey Weinstein, recipient of a BFI Fellowship (later stripped), has made a confession, maintaining his innocence despite being convicted.
The subject is fraught and complicated. Social media vengeance is brutal, and watching an internet witch-hunt is dizzying — Clarke's fall from grace was vertiginous. But look at the anguish involved — see abuse victim Adele Haenel's walkout at the 2020 Césars over Polanski winning best director for An Officer And A Spy. People feel like they're not heard. Festivals, particularly in Europe, have had to be dragged kicking and screaming even to gender parity.
So it was a surprise when the San Sebastian and Karlovy Vary film festivals made the unforced, seemingly random decision to pluck Johnny Depp out of thin air and honour him with awards. Wouldn't anyone want to avoid celebrating a person who was found by a UK court in a multimillion-pound libel trial last year to have beaten his wife? Depp trod the red carpet in 2020 at San Sebastian (and Zurich) just after the trial with a film he produced. Was that not enough?
What you don't want to do — as a festival director, surely — is get to a point where you're backed into publicly defending someone and cherry-picking what you choose to validate. Or remind anyone of the sordid he said/she said revelations that emerged at the expensive trial between Depp and a UK newspaper group. There's not a single honourable thing in Mr Justice Nicol's lengthy judgment, freely available online.
And surely, of all things, you don't want to trigger a chain reaction where someone such as Wim Wenders comes out in Depp's defence, making it look like the European film establishment (all men in this instance) are big on the idea of supporting women but less enthusiastic when it comes to believing them. Even when a UK High Court judge does.
Provocative decision
Having been refused leave to appeal in the UK, Depp continues to pursue Amber Heard in the US. The fight is ugly and ongoing. So, clearly, there was no need for San Sebastian and Karlovy Vary to jump into the fray by honouring him. It comes across as provocative, at the very least. There were so many other ways to go. How about, for example, recognising the recently deceased Spanish actress and activist Pilar Bardem, mother of Javier (who is in San Sebastian title The Good Boss), a lifelong campaigner against domestic abuse as a beaten spouse herself? Try to find real honour, surely, not just roll out the red carpet to the millionaire actor who lost his libel case.
Bafta has passed and learned its lesson, San Sebastian will pass and Karlovy Vary will pass and so will the depressing sight of Depp — who has already been given everything the world can offer a man — accepting his gongs. But this system of arbitrary honours has to change. It isn't working, it isn't accountable and, in certain cases, it's causing pain. We need to do better.

Screen International's chief critic and reviews editor