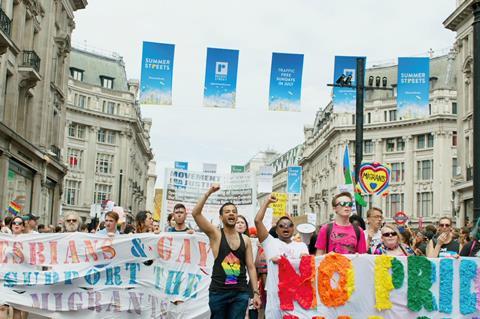 Ashley Joiner, the UK documentary filmmaker whose Are You Proud? is playing cinemas, has suffered an apparent homophobic attack. He is currently participating in the film's Q&A tour.
The film's producer, Dan Cleland, confirmed the incident to Screen, as did the distributor Peccadillo Pictures.
Joiner was walking home with friends on Monday (Aug 5) to Seven Sisters tube station in London when they were attacked by a group of teenagers who targeted a non-binary member of the group, according to the filmmaker.
Stepping in to defuse the situation, Joiner was punched in the head, which knocked him to the ground and split his ear. He required 10 stitches in his earlobe and is suffering from bruising and swelling on his jaw. One of the members of the group reported the incident to the local police.
On Facebook, the director posted a picture of the aftermath of the attack.
"This post isn't me looking for sympathy. It's a reminder that we as LGBT+ people aren't always safe. That we must continue to fight for our liberation and the liberation of others. I am thankful to the amazing staff at the #NHS last night who stitched me up and made me feel safe," he wrote on the social media platform.
Are You Proud? is a feature documentary chronicling the history of the LGBTQ+ Pride movement in the UK, featuring archive footage and interviews with historical campaigners and current activists.
Peccadillo Pictures is handling the film's UK release.
Managing director Tom Abell said, "On Monday we were horrified to learn that Ashley had been attacked when he defended a friend from homophobic abuse, the cowardly bigots then ran away."
"He bravely continued with the tour despite being in considerable pain from the injuries going on to Chester and Oxford and while there will be another member of the team standing in for him in Southampton today he will continue presenting the film in cinemas across the UK and festivals around the world."