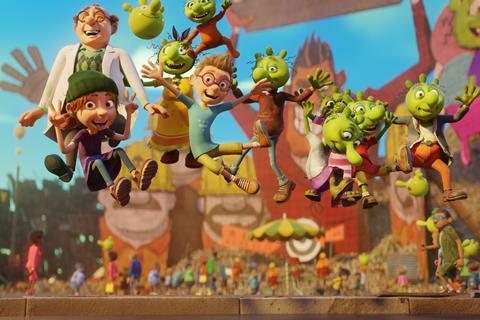 German sales outfit Arri Media International has been racking up deals on its family animation The Ogglies: Welcome To Smellville.
On the eve of EFM, contracts have been signed with the US and Canada (Viva Pictures), Middle East (Salim Ramia & Co), Hungary (ADS), Denmark and Norway (Another World Entertainment), and Spain (Vercine). The company is also in final negotiations with Latin America.
Directed by Jens Møller, and Toby Genkel, the animated yarn is set for a German theatrical release in May through Leonine. It was adapted for the screen by WunderWerk, the producers of Yakari, A Spectacular Journey.
The Ogglies is a market premiere at the EFM and spearheads a varied Arri slate that also includes Marxist vampire comedy Bloodsuckers, the latest feature from cult filmmaker Julian Radlmaier. Screening in Berlin's Encounters section, it's the story of a Soviet refugee who dreams of making a career in Hollywood at the end of the 1920s and falls in love with a wealthy young vampiress.
Arri is also giving a market premiere to Oliver Rihs' Caged Birds, about a young lawyer fighting Switzer­land's anti­quated prison system in the 1980s. The film will be released in Germany later this year by Port au Prince.
On the sci-fi front, Arri is pre-selling Rubikon, Magdalena Lauritsch's dystopian drama in which earth is covered in a mysterious toxic fog. Filmladen has taken Austrian rights.