SCREEN FILM SUMMIT: StudioCanal UK boss on fighting for audience attention, Paddington and the Cumberbitches.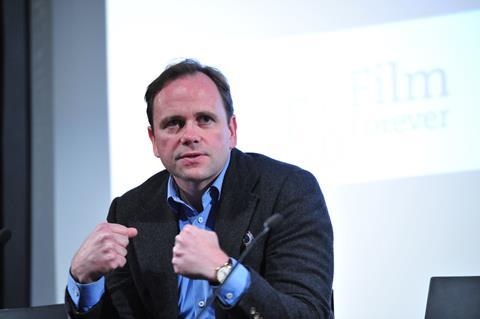 "Audiences are more discerning and unforgiving than ever," said Danny Perkins, CEO of StudioCanal UK, at the Screen Film Summit on Monday.
The distributor scored its biggest ever UK opening last weekend with family adventure Paddington taking $8m (£5.1m); while codebreaking war drama The Imitation Game is now on $14.9m (£9.5m) following its Nov 14 release.
But Perkins acknowledged that films have to be "first rate" to grab an increasingly distracted audience if they hope to avoid failure.
"If what you're doing isn't first rate, you often can't compete," Perkins told delegates. "There is so much competition for audience attention in this connected, digital world.
"So we have to strive to make the best thing we can, directed at an audience we know. The best way of doing that is to back the filmmakers because if their vision is strong it will cut through. It's about empowering filmmakers."
Theatrical windows
While Perkins stated that he continued to support the full theatrical window to "protect the experience of people going to the cinema together", he added that lower budget features could benefit from more flexible terms.
"Rather than spending P&A money on releasing a film theatrically and then waiting four months before spending more money on DVD, being flexible on the windows is something that could ultimately benefit the film," he explained.
Paddington
Asked about Paddington, Perkins said that international markets would present different challenges to the UK, where the character is well known.
"In Australia and New Zealand, Paddington means something but to a much lesser extent in France and Germany," he said.
"When we were dealing with our US distribution partners – The Weinstein Company – their big thing was 'No one knows who Paddington is so we have this big problem with him'.
"But we are dealing with that within our own company. We have territories where he is not known so we have to do different things. It means we are better placed to have those conversations with other buyers because we are approaching this from various sides."
Cumberbitches
Perkins added that he was surprised by some of the results delivered by The Imitation Game, starring Benedict Cumberbatch as Second World War codebreaker Alan Turing.
"We were interested to learn that the audience was younger than we thought," said Perkins.
"56% of the opening weekend was under 35s, which was a surprise to us. It was also female skewing so we can put that down to the Cumberbitches" he added, referencing the collective term for the actors fervent fanbase.
"We always accepted that there was a complete coherence with Benedict Cumberbatch's following from Sherlock on the small screen and what he's doing in The Imitation Game."