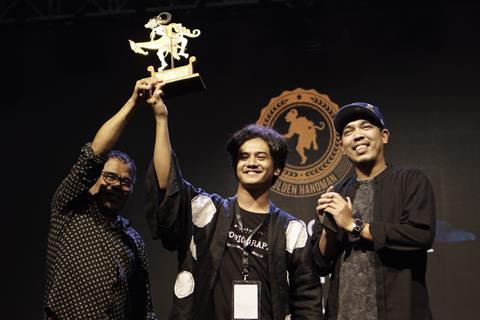 Makbul Mubarak's Autobiography has won the top prize – the Golden Hanoman – at the closing night of Indonesia's Jogja-NETPAC Asian Film Festival (JAFF). Lola Amaria's documentary The Exiles (Eksil) picked up the best film prize from the Indonesian Screen Awards.
Indonesian drama Autobiography has been on a winning streak since its premiere in Venice's Horizons sidebar. Mubarak's debut feature has collected around 10 awards globally within three months, including best film honours from Tokyo Filmex, Adelaide and Singapore as well as best screenplay prizes from the Asia Pacific Screen Awards and Festival Film Indonesia.
At JAFF, which ran from November 26 to December 3, the film sold out within 15 minutes and a second screening was added. The main competition jury - Dutch film curator Gertjan Zuilhof, Indonesian director Timo Tjahjanto and Screen's senior correspondent for Asia, Silvia Wong – unanimously awarded Autobiography the top prize for the "unique vision of the director who dares to tackle a very complex subject that can be both specifically Indonesian and yet psychologically universal, with an ending that pays off powerfully".
The jury for the Indonesian Screen Awards – Filipino filmmaker and curator Elvert Banares, Adelaide Film Festival CEO Mat Kesting and visual artist and historian Sandeep Ray – praised The Exiles as a "moving, tender and yet hopeful documentary that will help us and future generations to understand the events of the not-so-distant past, removed by barely one generation".
The Indonesian documentary, which received its world premiere at JAFF, revisits Indonesians exiled from their homeland during mass killings and political upheavals in 1965, aimed at eliminating the Indonesian Communist Party.
Record audience
Held in the city of Yogyakarta (known as Jogja), JAFF is the largest film festival in Indonesia. This year's edition drew more than 16,000 attendees, the highest number since the festival launched in 2006. A further feat was that no screenings were cancelled of the 146 films from 19 countries across Asia Pacific and the Middle East. The eight-day festival included 71 Q&As, 279 festival guests and 23 talks and discussions.
JAFF opened on November 26 with Piknik Pesona, an anthology of 10 Indonesian short films set in 10 different cities and directed by 10 young Indonesian directors, produced by Vision Pictures and Palari Films.
"During the 17 years I have been with the festival, this year is the liveliest," said co-founder and festival director Ifa Isfansyah. "This is a great energy for our film community." Isfansyah is also a filmmaker, having produced his wife Kamila Andini's Berlinale 2022 winner Before, Now & Then.
At the peak of the pandemic in 2020, JAFF moved online through local OTT platform KlikFilm. Around 22,000 online views were recorded nationwide over the five days it ran. Encouraged by the extensive audience reached online, the festival continues to run in a hybrid format.
This year, around 40 films from its line-up were also available online through KlikFilm, while physical screenings were held at the Empire XXI cinema.
JAFF was founded by renowned Indonesian filmmaker Garin Nugroho whose credits include Opera Jawa and Memories Of My Body. His latest film The Deadly Love Poetry marks his first horror film and had its world premiere at JAFF this year.
JAFF 2022 winners
Main Competition
Golden Hanoman Award: Autobiography
Silver Hanoman: Leonor Will Never Die
Special Mention: 24
Indonesian Screen Awards
Best Film: The Exiles
Best Directing: Adriyanto Dewo, Galang
Best Storytelling: Tumpal Tampubolon, Galang
Best Performance: Orsila Murib, Orpa
Best Performance: Rafli Anwar Mursadad, Sound From The Sea
Best Editing: Yuda Kurniawan, The Tone Wheels
Best Cinematography: Yudi Datau, Sound From The Sea
NETPAC Award: Let Me Hear It Barefoot
Blencong Award: The Intrusion
Blencong Award – Special Mention: Falling Day
Geber Award: Leonor Will Never Die
Student Award: The Intrusion (dir. Eden Junjung)