Vic Bateman, one of the UK's longest serving international sales agents who handled films including The Deer Hunter and The Elephant Man, has died.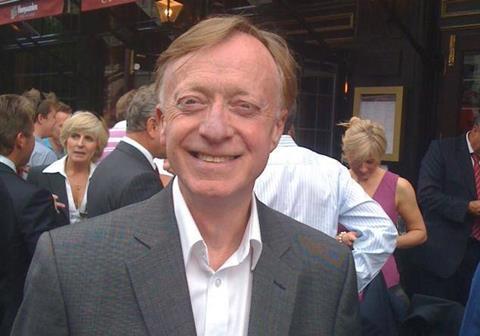 Tributes have been paid to Victor 'Vic' Bateman, the co-founder and vice chairman of London-based sales company AV Pictures, has died. He was 72.
Bateman's career in film spanned more than 40 years. He began in the contract administration department of British Lion in 1961, where he developed detailed knowledge of the commercial, financial and legal terms governing distribution arrangements on a global basis. In the early 1970's Vic was promoted to the international sales division of what was by then EMI Films.
Over the years, Bateman achieved notable sales successes and established his reputation with film buyers worldwide, handling major films such as The Deer Hunter, The Elephant Man, A Passage to India, All of Me, Highlander, The Hitcher, Death on the Nile, Murder on the Orient Express, The Last Emperor and The Big Easy.
He co-founded United Media Film Sales in 1989 and was instrumental in the financing and worldwide sales of The Krays and then set up Victor Films and launched with Split Second starring Rutger Hauer.
Bateman handled sales on titles including Death Machine directed by Stephen Norrington, Vadim Jean's prize-winning drama Clockwork Mice and Philip Ridley's The Passion of Darkly Noon. Dog Soldiers, co-financed by Victor Film Co, was a new spin on the werewolf myth with Sean Pertwee and Kevin McKidd.
In January 2003, Bateman was named managing director of AV Pictures and ran the company with Gavin Braxton for over a decade. During this time he was responsible for overseeing sales on films including Black Water and The Tournament.
Bateman was probably best known for his love of genre and most importantly for spotting and championing breakthrough talent, such as Stephen Norrington, Scott Mann (The Tournament) and Neil Marshall (Dog Soldiers).
Bateman's enthusiasm for life was matched by his enthusiasm for film and football and he always maintained a youthful outlook and a ready laugh. Over the years his sales patter and 'bon mots' became legendary. But maybe his proudest moment was being name-checked in the trades as "a moonwalking Vic Bateman".
Industry pays tribute
Colleagues and industry have paid tribute to the well-liked exec following his death last weekend.
Chris Hainsworth, MD of AV Pictures said: "Vic taught us all so much, not least the importance of subject matter, the gross corridor deal, and of remembering to have fun. We miss him greatly."
Gavin Braxton, CEO of AV Pictures, simply said: "Me, Vic. Dream team."
Jeremy Thomas, from the Recorded Picture Company, said: "I have fine memories of Vic Bateman, who fitted into the 'great unsung heroes' category of the film industry, an enabler of films via international sales. He always lived life to the full and his enthusiasm was infectious.
"He was involved with Terry Glinwood and myself on the sale of such films as Merry Christmas Mr. Lawrence, The Last Emperor and The Sheltering Sky, for which I shall be ever grateful. RIP Vic."
Stan Wertlieb of Grindstone Entertainment Group said: "I go back over 20 years with Victor Albert Bateman. He always asked, 'Have you got a moment, Stan? I want to show you a very special film. I've got lots of offers over my ask, BUT I really want to sell it to YOU!'.
"Vic was a wonderful guy. Always with a sly smile to share, and a deal that just could not be refused. He was at every market with a special upbeat energy. He was my friend and I always made a point to stop by and just say hello whether I was interested or not in "his very special films".
"I am sure he is showing his trailers in Heaven now. He is loved and will be missed. Rest in peace, Vic."
In a joint statement, Smile Entertainment's Claus de la Porte, Kim Philipsen and Timo Lahtinen and Nordisk Film's Peter Philipsen: "For more than 30 years Vic always met us with a smile, a glass, a fag and a pitch – of the best screenplay… Ever!
"Now this great salesman and dear friend has gone silent but we greatly applaud his phenomenal life and eternal legacy. Here's to you, Vic!"
Steve Break of Naedomi Media said: "Vic was such a force of nature, his gravely voice and big laugh made everyone feel at ease. His tremendous personality made everyone ready for a good laugh and his compassion made everyone he encountered feel like a good friend."
Christopher Shaw of The Shaw Organisation said: "40 years of wonderful personal and business relationship forever remembered by your friends the Shaw Family of Singapore."
Richard Sheffield of Polyphony Entertainment said: "Vic was a real gent from the old school and I will never forget that cheeky laugh.He made this business fun!"
Gope T Samtani of Rapi Films Jakarta (Indonesia) said: "I have known Vic for almost 30 years since he was at EMI and we have kept up relations continuously. I still remember his laughter. I never ever saw him in a bad mood. He was always cheerful.
"Last Berlin, I went to AV Pictures and asked about him but was told he had retired. I will pray to God Almighty for his soul to rest in peace and to give strength to the family members to bear the loss."
Vic Bateman's funeral will be at Beckenham Crematorium on June 11 at 10.30am.
Condolences can be sent to Vic's family via: leanne.thompson245@hotmail.com
A memorial page for messages has been set up on Facebook https://www.facebook.com/vicbatemanmainframe