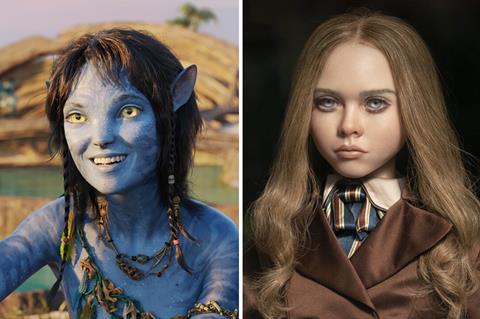 World box office January 6-8
| Rank | Film (distributor) | 3-day (world) | Cume (world) | 3-day (int'l) | Cume (int'l) | Territories |
| --- | --- | --- | --- | --- | --- | --- |
| 1. | Avatar: The Way Of Water (Disney) | $177.6m | $1.7bn | $132.6m | $1.19bn | 53 |
| 2. | M3GAN (Universal) | $40.1m | $45m | $9.9m | $14.8m | 35 |
| 3. | Puss In Boots: The Last Wish (Universal) | $38.9m | $197.4m | $25.8m | $109.7m | 78 |
| 4. | A Man Called Otto (Sony) | $8.2m | $12.6m | $4m | $8.4m | 11 |
| 5. | Whitney Houston: I Wanna Dance With Somebody (Sony) | $7m | $41.4m | $4.6m | $21.8m | 47 |
| 6. | Operation Fortune: Ruse de Garre (various) | $6.9m | $6.9m | $6.9m | $6.9m | 31 |
| 7. | Better Man (various) | $5.8m | $28.9m | $5.8m | $28.9m | 1 |
| 8. | Black Panther: Wakanda Forever (Disney) | $5m | $830.7m | $1.7m | $385.3m | 51 |
| 9. | Someday Or One Day (various) | $4.8m | $47.6m | $4.8m | $47.6m | 2 |
| 10. | Father And Soldier (Gaumont) | $3.1m | $3.1m | $3.1m | $3.1m | 1 |
Credit: Comscore, click top right to expand. All figures are estimates.
'Avatar 2' adds $178m in strong fourth weekend
UPDATED: While Disney's Avatar: The Way Of Water impressed consistently in its first three weeks of release, the film benefited from this being a holiday period. The film would face its real box office test, agreed commentators, when audiences returned to school and work.
Now the numbers are in for the January 6-8 play period – The Way Of Water's fourth weekend of release – and most would agree the film has passed the test.
The Pandora adventure grossed an estimated $45.0m in North America (down 33%) and a confirmed $136.6m in international markets (down 30%, and down just 24% excluding China), combining for an estimated $181.6m. The global total to date is a powerful $1.71bn.
The Way Of Water has overtaken Top Gun: Maverick ($1.49bn) to become the highest-grossing film released in 2022. It has also overtaken The Lion King ($1.66bn) and Jurassic World ($1.67bn) to become the seventh-highest grossing film of all time. Next in its sights is Spider-Man: No Way Home, with $1.92bn – but it needs to add another $200m to get there.
Although China saw a 55% drop for The Way Of Water, with weekend takings of $16.5m according to local data gatherer Artisan Gateway, the $188.3m total there – confirmed by Disney sources on Monday – represents the biggest for a US studio film released in 2022, and the seventh-biggest overall for the year.
The Way Of Water is now the biggest film of all time in a trio of minor markets (Mongolia, Lithuania and Romania) and the highest-grossing non-local title in India, Serbia and Turkey. It's among the top five films of all time in Spain and Italy, as well as in 18 smaller markets, and in the European region as a whole.
After China, the top international market is France with $108.9m, followed by Germany ($93m), South Korea ($85.5m) and UK/Ireland ($69.m). Next come India ($54.7m), Australia ($45.0m), Mexico ($44.5m), Italy ($39.8m) and Spain ($38.1m).
Takings on Imax screens have now reached $189m – making the Avatar sequel the fourth-biggest film of all time for the format.
Premium and 3D formats continue to dominate in international markets, accounting for 70% of box office receipts for the film in Europe, 74% in Asia-Pacific, and 53% in Latin America.
The Way Of Water is chasing the $2.74bn achieved by the original 2010 release of Avatar, or $2.92bn if the various rereleases are included.
'M3GAN' expansion pushes film to second place
UPDATED: Following early release in three international markets – France, Mexico and Belgium – Universal sci-fi horror M3GAN arrived in North America at the weekend, also expanding its international footprint to 34 territories.
The Blumhouse production grossed a confirmed $30.4m in North America, $10.4m for international, combining for $40.8m, and pushing M3GAN up to second place in the global box office chart. Total is now $45.6m.
Among new markets, Spain began with a confirmed $1.2m for the second highest horror opening of the pandemic era behind The Conjuring 3, and Italy kicked off with $1.1m. Middle East overall delivered $1.4m. Mexico led the holdover territories (which declined just 17% overall) with $1.7m, taking the total there to $4.54m. France added $900,000, and is now at $2.6m.
Universal calculates that M3GAN is in line with recent horror hits The Black Phone and Smile, as well as pre-pandemic The Invisible Man, at the same stage of release in international markets so far released. Differing strength in word-of-mouth propelled those films to varying final outcomes, with The Invisible Man hitting $144.5m worldwide (also impacted by the arrival of Covid in spring 2020), The Black Phone reaching $161.4m, and Smile doing best of all, with $216.1m.
M3GAN arrives in three key territories this coming week: Australia, Germany and UK/Ireland. Brazil follows a week later and South Korea in late January. Japan is set for June.
'Puss In Boots 2' boosted by fresh markets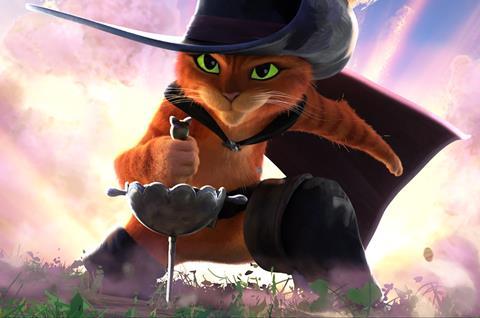 UPDATED: Strong holds in existing markets plus arrival in six new international territories including Brazil, Poland and South Korea saw Universal's release of DreamWorks Animation's Puss In Boots: The Last Wish achieve its biggest weekend total to date – a confirmed $41.7m – as it crossed the $200m global milestone.
The sequel to Shrek spin-off Puss In Boots grossed an estimated $13.5m in North America (down 19%) and $28.1m in 77 international territories (down 16% in holdover markets). Cumulative totals are respectively $88.1m and $112m, combining for a $200.1m worldwide running total.
Brazil opened with a strong confirmed $3.6m for the second highest opening weekend of the pandemic era for an animation behind Minions 2, while Poland began with a chart-topping $2.6m (both including previews). South Korea kicked off with $2.4m.
Cumulatively, the top foreign territory is France, with $14.5m. Next are Mexico ($10m), Germany ($8.9m), Australia ($6.2m), Spain ($5.5m) and Italy ($5.3m).
The Last Wish is chasing a $555.0m total achieved by the original Puss In Boots in 2011 ($149.3m in North America and $405.7m for international), and is now 36% of the way to reaching that target.
Future key markets are UK/Ireland on February 3 (timed for the territory's half-term school holiday) and Japan on March 17.
'A Man Called Otto' lands in fourth place worldwide
Sony has made a promising start with comedy-drama A Man Called Otto – the English-language remake of Oscar-nominated Swedish hit A Man Called Ove. The Tom Hanks starrer grossed an estimated $8.4m at the weekend from 10 international territories, earning fourth place in the worldwide box office chart. The cumulative total including North America is $12.7m.
The film landed in UK/Ireland with a strong estimated $1.4m, leading six new markets.
Among holdover territories, Mexico leads with $2.9m, with Australia at $2.0m and Spain $1.5m. The cast includes Mexico's Mariano Treviño in a strong supporting role – playing the woman who, together with her husband and young children, moves in opposite Hanks' curmudgeonly, suicidal widower.
Director Marc Forster reteams with his Finding Neverland screenwriter David Magee for the film, while the producer roster includes Hanks and Rita Wilson for their company Playtone. The cast also includes their son Truman Hanks, playing the younger version of Otto in flashback.
The film has yet to arrive in many major markets, and rolls out as follows: Brazil (January 26), France (February 1), Germany (February 2), Italy (February 16), South Korea (March 9), and Japan (March 10).
Also for Sony, Whitney Houston: I Wanna Dance With Somebody added an estimated $7.0m at the weekend, taking the global total to $41.5m. Overall decline was a slim 11% in international holdover markets, helped by an 11% increase in UK/Ireland, where the music biopic added an estimated $1.8m, taking the total there to $7.7m.