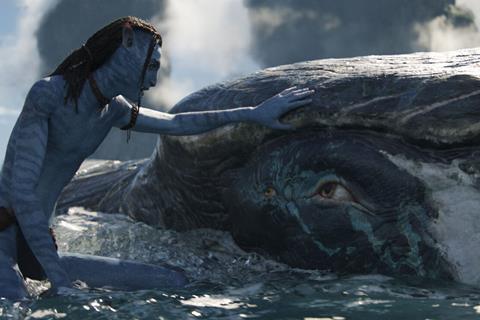 Avatar: The Way Of Water stormed to the top of the North American charts on an estimated $134m in a debut that may have fallen below forecasts but was still enough to give box office a much-needed boost.
The stirring launch sets up James Cameron's action fantasy for a propulsive run into the new year and was part of a $435m global debut that will push The Walt Disney Studios' 2022 releases past the $4bn box office mark on Monday. The figure is currently $3.99bn.
Cameron's sequel to his 2009 smash and reigning all-time box office world champion Avatar opened in 4,202 theatres and is forecast to hold well. Children break for the holidays in roughly 50% of US schools on Monday, leading to unusually strong weekday cinema-going throughout the season.
On top of that Disney executives forecast the film will maintain momentum through its second weekend based on advance ticket sales into the first week, indicating that audiences are pacing themselves and will not frontload box office as seen with other tentpoles.
Avatar: The Way Of Water earned 62% of its overall North American box office on Imax, premium large formats and 3D, with the latter accounting for 47% of the overall performance.
Imax was indeed a mighty driver, generating $16.5m from 407 screens, representing 12.3% of the weekend and producing a per-screen average of more than $40,000.
Earlier forecasts had put the 20th Century Studios/Disney/Lightstorm tentpole's opening weekend in the $150m-$175m range however that was not to be and the three-hour-plus run time meant fewer daily screenings in cinemas, eating into potential revenue.
Avatar: The Way Of Water is reported to have cost between $350m and $400m and Cameron has said essentially the film will need to gross more than $2bn worldwide to break even.
If the sequel were to do that, it would join the ultra elite club of only five films to have surpassed $2bn, led by Avatar. The original launched 13 years ago in December 2009 and went on to gross $2.92bn worldwide.
Next is Avengers: Endgame (2019) on $2.79m, Cameron's Titanic (1997) on $2.20bn, Star Wars: Episode VII – The Force Awakens (2015) on $2.07bn, and Avengers: Infinity War (2018) on $2.05bn.
There's a long way to go, too, before it reaches the seemingly unassailable final North American gross of its predecessor, which ended on $785.2m. Both the historical Avatar grosses and the other top five data are unadjusted for inflation.
Disney releases comprised four of the top five films over the weekend. Black Panther: Wakanda Forever ranked third as $5.4m boosted the running total to $418.9m after six weekends. Strange World on $2.2m for $33.8m after four and Searchlight Pictures' The Menu on $1.7m for $32.1m after five – an accomplished performance from the satirical horror – rounded out the top five in fourth and fifth, respectively.
Universal's Violent Night finished second in its third session, adding $5.6m for $34.9m.