Disney's latest superhero outing posts biggest April opening, biggest Saturday ever for the distributor and the eighth-biggest opening of all time.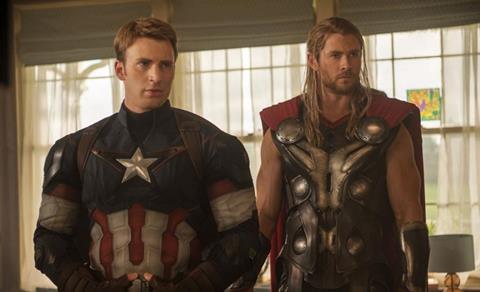 DISNEY
After recording the second highest opening Thursday of all time, it was only a question of how big Avengers: Age Of Ultron would open at the top of the UK box office.
The result was a storming $27.3m (£18m) bow from its 585 sites, including $5.5m (£3.6m) from previews, as it dethroned Fast & Furious 7.
It marks the biggest debut of 2015, topping Fifty Shades Of Grey's $20.5m (£13.55m), and the highest opening in the UK since Skyfall shot to $30.6m (£20.18m) in 2012.
Overall, Avengers: Age Of Ultron's chart-topping debut ranks as the eighth biggest opening of all time in the UK, and lays down the gauntlet to James Bond's Spectre and Star Wars: The Force Awakens for their bows later this year.
Among its many records, the film posted the biggest April opening of all time, while Saturday [April 25] saw the film deliver the biggest single day for Disney of all time with $9.4m (£6.2m), also the biggest day for a superhero film ever. It also achieved the biggest IMAX weekend result ever with $2.2m (£1.45m) across the four days.
In terms of Marvel Studios outings, it replaces the $23.9m (£15.78m) debut of its predecessor, Marvel's Avengers Assemble, as the biggest opening, with that film's final result of $78.6m (£51.9m) firmly in its sights as Avengers: Age of Ultron attempts to become Marvel's best-ever UK performer.
Also for Disney, Cinderella is up to $27.9m (£18.44m) following a $1.1m (£756,000) fifth weekend, a slim drop of 30%.
UNIVERSAL
Fast & Furious 7 may have been prevented from a fourth straight week as the UK's number one, but it can take comfort in that it will shortly become the year's highest grossing film, if only for a brief time.
Universal's latest outing of the popular action franchise added $2.4m (£1.6m) for a terrific $52.6m (£34.76m) to date, still narrowly trailing Fifty Shades Of Grey's $52.8m (£34.8m) as the year's current highest grossing film.
Fast & Furious 7 will soon overtake Fifty Shades, and then it's just a question of how long it takes Avengers: Age Of Ultron to overtake it in turn.
FOX
Falling one place to fourth was Fox's Home as it took a further $1m (£674,677) for $31.8m (£21m) after six weeks in play, a strong performance for an original animation.
ENTERTAINMENT
Woman In Gold grossed an additional $424,000 (£278,230) for $2.8m (£1.9m) to date through Entertainment.
PARAMOUNT
Falling a respectable 32% in its fifth weekend, Paramount's The SpongeBob Movie: Sponge Out Of Water soaked up an extra $379,000 (£250,000) for $11.4m (£7.5m) to date.
EONE
Child 44 fell over 50% on its way to a second weekend of $348,000 (£229,653) for $1.5m (£986,133) to date through eOne, while The DUFF added $229,000 (£151,514) for $2.7m (£1.8m) after three weeks in play.
Also for eOne, The Divergent Series: Insurgent reached $11.9m (£7.9m), as The Good Lie posted a UK debut of $18,000 (£11,586) from its 24 sites.
WARNER BROS
Get Hard crossed the £5m mark in its fifth weekend for Warner Bros after grossing $235,000 (£155,000) to lift its running tally to $7.6m (£5.04m).
Also for Warner Bros, John Wick shot to a further $158,000 (£104,000) for $2.2m (£1.44m) after three weeks in play.
METRODOME
Carol Morley's well-received The Falling posted a promising UK debut of $219,000 (£144,370), including previews, from its 57 sites through Metrodome.
It will shortly surpass Dreams of a Life's $271,000 (£179,125) result as Morley's best UK performer, although it's worth noting that Dreams only received an 18-site release at its widest.
SONY
Now in its third week, Sony's Paul Blart: Mall Cop 2 rode to an additional $188,000 (£124,000) for $1.9m (£1.26m) to date.
LIONSGATE
Dropping over 50% in its second weekend was Lionsgate's A Little Chaos as it grossed $172,000 (£113,811) for a ten-day tally of $1.1m (£741,965).
Also for Lionsgate, Stonehearst Asylum scared up $47,000 (£30,859) from its 20 sites on its UK bow.
CURZON FILM WORLD
Continuing its excellent UK run, Curzon Film World's Force Majeure dropped just 17% in its third weekend on its way to $106,000 (£70,190) as it lifted its running tally to $531,000 (£351,009).
Also for Curzon Film World, A Pigeon Sat On A Branch Reflecting On Existence landed with $52,000 (£34,362) from its 18 sites, including just under $4,500 (£3,000) in previews.
UPCOMING RELEASES
This weekend sees saturation releases for Fox's Far From The Madding Crowd, eOne's Two By Two: Ooops… The Ark has Gone and Universal's Unfriended.
Kaleidoscope/Spectrum's I Am Big Bird, Vertigo Films' Monsters: Dark Continent, Koch Media's Samba and Shear Entertainment's We Are Monster are among the films receiving limited releases.