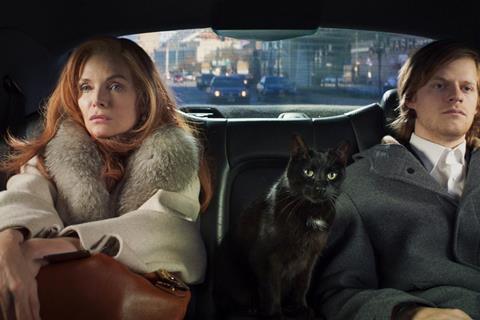 The world premiere of Azazel Jacobs's French Exit starring Michelle Pfeiffer and Lucas Hedges will close the 58th New York Film Festival (NYFF).
The autumn festival NYFF presented by Film At Lincoln Center is set to run from September 25-October 11.
Sony Pictures Classics holds all rights in the US, UK, Germany, France, Italy, Japan, China and worldwide airlines to the drama about an imperious New York widow whose wealth has shrunk and flees to Paris with her son and their talking cat in a bid to start a new life.
Tracy Letts voices the cat, Small Frank, and Jacobs directed French Exit based on the novel by Patrick deWitt.
"We've been watching New York filmmaker Azazel Jacobs for more than a decade, since his film Momma's Man screened in our New Directors/New Films festival in 2008," said New York Film Festival director Eugene Hernandez.
"Now, we're honoured that he'll make his NYFF debut with Closing Night selection French Exit, a tour-de-force collaboration with Michelle Pfeiffer that we can't wait to share with audiences in NYC and beyond."
"NYFF is the film festival I grew up attending," said Jacobs, who directed Letts in 2017 marriage drama The Lovers. "I remember seeing Night On Earth for the first time, and waiting afterwards to hand Jim Jarmusch a fan letter. I remember that same year seeing Gus Van Sant's My Own Private Idaho and having my aim to become a filmmaker only more solidified."
As previously announced, Steve McQueen's Lovers Rock will open the festival, and Chloe Zhao's Nomadland starring Frances McDormand is the NYFF centrepiece film.