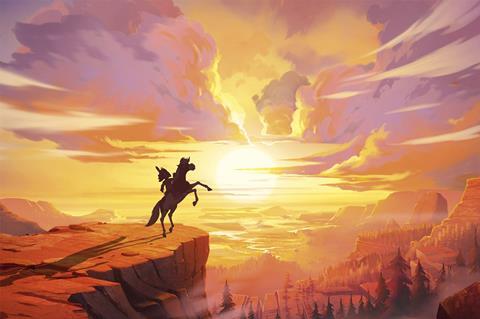 Bac Films International is launching sales on Yakari, an animated feature adaptation of the best-selling Belgian-French comic-book series about a young Sioux boy who is able to communicate with animals.
Set against the backdrop of the Great Plains, the Yakari comic series which began in 1973 currently runs to 39 volumes. The film will follow Yakari on his first solo trek in pursuit of Little Thunder, a wild mustang said to be untameable. With the help of his totem animal, an eagle, he tracks the pony down.
French animation company Dargaud Media, which has previously brought comic-book icons like Tintin, Asterix and Lucky Luke to the big screen, is producing the film with its long-time French collaborator Belvision and German family entertainment production company WunderWerk.
"Yakari is a positive hero whose message of tolerance and respect for nature finds a particular echo in today's society. The scale of his adventures and the film's great landscapes are tailored for the big screen," said Dargaud Media's Maïa Tubiana and Wunderwerk's Gisela Schaëfer in a joint statement.
As well as handling world sales, Bac is also involved in the production as co-producer alongside France 3 Cinema, Universum Film and Gao Shan Pictures. The film is due to be completed in the second half of 2020. Bac will screen a first trailer at the EFM.
Bac is also handling sales on another family-oriented feature animation in the shape of Terra Willy, the latest film from TAT Productions, the company behind the well-travelled The Jungle Bunch: The Movie. The company is showing a full-length, work-in-progress version of the film, which Bac Films will release in France on April 3.
Other upcoming titles on the Bac slate include Martin Rosete's Remember Me, starring Bruce Dern as a man trying to woo an old flame with Alzheimer's, and action thriller Visceral, starring Georgina Campbell, Toby Kebbell and Faye Dunaway.