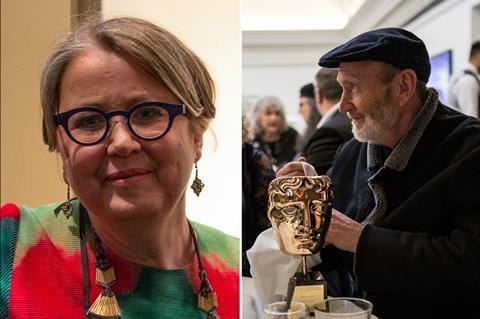 Bafta presented special awards to Sue Bruce-Smith and Roger Pratt at separate events this weekend.
Bruce-Smith, deputy director at Film4, was recognised for her outstanding contribution to British cinema during a tribute evening at Bafta's London HQ on Friday 18 January.
Alison Thompson, co-president of Cornerstone Films, presented Bruce-Smith with her award. Speakers included Bafta-winning producer and former head of Film4 Tessa Ross, director of Film4 Daniel Battsek, deputy CEO of BFI Ben Roberts and producer Gail Egan. Also in attendance were Steve McQueen, Kevin Macdonald, Alison Owen, Liz Karlsen and Ed Guiney.
In a career spanning more than 30 years, Bruce-Smith has had two stints at Film4 and has also worked at the BFI and BBC Worldwide.
Cinematographer Roger Pratt was also honoured with a special award for outstanding contribution to cinematography at a Bafta tribute event on Sunday 20 January.
Michael Palin presented the award at a ceremony compered by producer Stephen Woolley. Attendees included directors Mike Leigh, Terry Gilliam and Richard Eyre, production designer Stuart Craig and producer Duncan Kenworthy.
Pratt earned Bafta nominations for The End Of The Affair (1999) and Chocolat (2000). His other credits include Brazil (1985), Mona Lisa (1986) and Batman (1989).