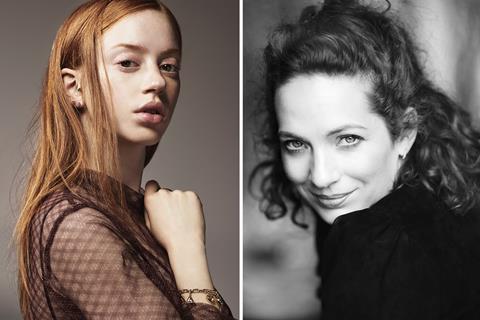 International sales outfit Bankside Films have boarded Rudolph Herzog's How To Sell A War, which will start shooting March 16 in Georgia and also shoot in Dublin.
Samantha Taylor and Mike Downey produce for their Dublin-based Film and Music Entertainment (IRE) with key financing from the UK's Quickfire and Helsinki-based IPR.VC. This is the sixth project to come through F&ME's Dublin-based outfit since it was established in 2016.
The film was developed by Creative England, IPR.VC and F&ME.
Author and documentary filmmaker Rudolph Herzog (The Paedophile Next Door), who is the son of Werner Herzog, makes his fictional feature debut and the cast is led by Katherine Parkinson (The IT Crowd) and Lily Newmark (Pin Cushion).
The story follows a PR consultant, and her naïve new intern, working for a global charity concert, trying to keep the event on track despite interference from a Russian warmonger.
"We are thrilled to be bringing this whip-smart comedy to worldwide buyers," said Bankside Films director Stephen Kelliher. "It is an incredibly timely piece which speaks to the world we live in today. We feel sure that its laugh-out-loud satire will resonate with international audiences and that the creative team will excel in bringing the ultimate story of fake news to the screen."
Tim Price wrote the script based on an idea by Raid Sabbah. Co-producers are Georgia's 20 Steps Productions, with co-funding from the Georgian National Film Centre and the tax credit scheme of Enterprise Georgia.
Co-producers are Vladimer Katcharava and Radek Drabik and executive producers are James Atherton, Jan Pace, James Bierman and Aleksi Bardy.
DoP Peter Zeitlinger (Grizzly Man) will shoot the film, while Anne Sopel (Mr Selfridge) serves as editor. Sister Bliss of Faithless is in talks to compose the score.
"It's really exciting to be producing How to Sell a War at the present time," said F&ME's Samantha Taylor. "Katherine and Lily, our extremely talented lead actors, play two very funny women who stick it to the bully man, news-fakers, and to celebrity bullshit in general. With Rudolph directing a blazing script from Tim Price this is going to be a brilliant comedy trip. No one is safe. To paraphrase, humour isn't about appeasing the patriarchy but rolling over it in an armoured car. We're also very happy to be working for the fourth time with 20 Steps in Georgia and with Windmill Lane for the first. With this, and the support of IPR.VC, Quickfire, Bankside, GNFC, we are unstoppable."