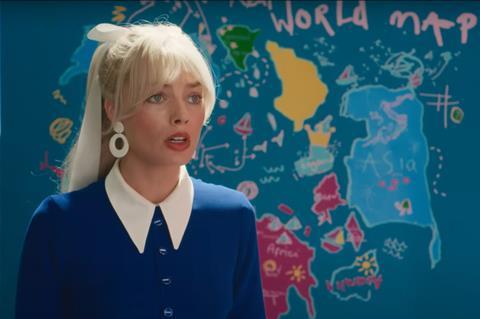 Censors in the Philippines have given the green light to release Barbie in the country but have requested that US distributor Warner Bros blur a map featuring a dashed line, which has been compared to the "nine-dash line" used on Chinese maps to show its claims over areas of the South China Sea.
The fantasy comedy, directed by Greta Gerwig and starring Margot Robbie and Ryan Gosling, is set to receive a theatrical release in the Philippines on July 19.
The Movie and Television Review and Classification Board (MTRCB) in the south-east Asian nation first announced it was deliberating on a local release of Barbie on July 4.
This came shortly after Vietnam refused to grant a release license for the film due to the inclusion of a scene in which Barbie stands in front of a childish map, depicting her journey to the 'real world'. The map includes a line of dashes off the east coast of Asia and had been compared the "nine-dash line" featured on Chinese maps. Vietnam is among several countries that contest China's claim to almost all the South China Sea.
However, after the film underwent "meticulous screenings", Philippine censors ruled that the "cartoonish map of the character 'Weird Barbie' [played by Kate McKinnon] … does not depict the 'nine-dash line'."
"Instead, the map portrayed the route of the make-believe journey of Barbie from Barbie Land to the 'real world,' as an integral part of the story," added the statement from the MTRCB.
In a separate letter to Philippines senator foreign affairs committee chairman Francis Tolentino, the MTRCB said it had asked Warner Bros. to blur the lines to avoid further confusion.
The letter, dated July 11 and shared with reporters, noted that the lines are "not U-shaped and has eight dots/dashes instead of nine," and that the Philippines, Malaysia, and Indonesia are not visible on the map.
"This is in stark contrast to the maps found in the banned films Abominable (2019) and Uncharted (2022)," it added.
Warner Bros. did not respond to comment at time of publication but has previously stated that the map was "not intended to make any type of statement".
The Philippines' approval of Barbie coincided with the seventh anniversary of an international ruling that China's historical claims to the South China Sea have no legal basis.