Turkish film-maker Can Evrenol introduced the tale about "madness and paranoia" during Frontières at BIFFF.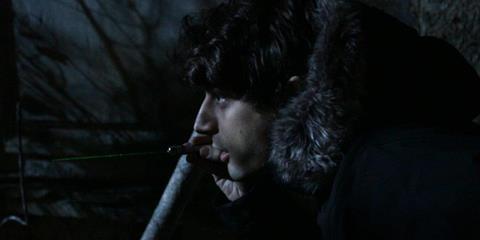 Having already taken audiences on one descent into hell, Baskin writer-director Can Evrenol looks set to do the same with his next feature Housewife.
The film was introduced for the first time during Frontières at Brussels International Fantastic Film Festival (BIFFF). Speaking to Screen, Evrenol noted that while it's similar thematically to TIFF hit Baskin, there are also marked differences.
"It's almost a continuation of my work, the recurring themes of sexuality, family, social claustrophobia and nightmares," he explained. "This time it's from a female's perspective and it's going to be in the English language. If you say Baskin is like my Carpenter and Stephen King homage, this is going to be Argento and Fulci."
Housewife is centred on Holly whose mother murdered her sister and father when she was seven. 20 years later and slowly losing her grip on the difference between reality and nightmares, she runs into a celebrity psychic who claims that he is destined to help her.
Written by Evrenol with Cem Ozuduru (who worked on Baskin), Housewife will be produced by Evrenol and Muge Buyuktalas of MO Film. Casting is yet to be confirmed, but Danish-Japanese actor David Sakurai looks set to play the psychic Bruce O'Hara.
"Through WME [Evrenol's agent], we're looking for a lead actress. She has to be traumatised, submissive in her character, but also a fighter," Evrenol noted. "When I do my casting, I mix and match with the character. As much as I write the character in my mind, I always take from the actor or actress."
While his focus is on Housewife as his second feature, MO Film also has another project in the pipeline that could overtake it. Perihan (working title), a melancholic children's film, received development funding recently - from Istanbul's Meetings on the Bridge - and will likely be in Turkish language.
It's likely to be a change of pace for Evrenol, who will "most probably" direct, and he's already thinking further into the future. "Sooner or later, I want to connect with something that is written and interpret it for the screen. Something like Ben Wheatley did with High-Rise or Denis Villeneuve with Enemy," he outlined.
First though, it's the small matter of following up a critically acclaimed debut feature, which became one of only a handful of Turkish films to be exported to the US. And if Baskin taught him anything, it was to trust his "gut feeling" more often on Housewife.
"Many of the decisions I really thought about on Baskin were about whether to go a bit safer, but when I went not safe, it worked much better. If I have a crazy idea, just go with it," Evrenol commented. "When you are your only critic, it's very difficult to know where to draw the line. But now after Baskin, I feel more confident."
And so he should. Evrenol received a boisterous reception on Wednesday [March 30] night when he screened Baskin at BIFFF, to go with similarly strong responses at the likes of TIFF and Glasgow FrightFest. So, does that bring its own kind of pressure?
"I think it's a good thing," he said. "When you do a film, you throw the dice on many things. Many times, we got a double six with Baskin. Again, we're going to be throwing the dice, but it's part of the game."