Warner Bros' scores local record while Zootopia nears $200m and The Revenant passes $50m.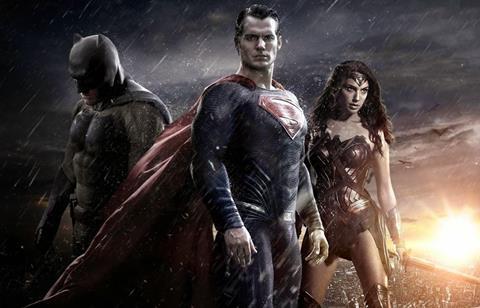 Batman v Superman: Dawn Of Justice stormed the Chinese box office for the period of Mar 21-27 with a three-day opening of $56.5m, which made up almost half of last week's total box office takings.
The superhero film, which opened day and date with the US, set new records as the biggest opening weekend for Warner Bros in China.
Disney animation Zootopia, currently China's top animated film ever, continued its strong run in its fourth week of release. After topping the weekly chart for two weeks, it slipped to the second place and added $26.81m from $197.24m after 24 days.
Triple Oscar-winner The Revenant dropped to third place with $18.75m for $50.5m after ten days.
Local romantic comedy The Rise Of A Tomboy was in a distant fourth place with $3.81m for $8.81m after ten days; followed by Gods Of Egypt, which took $2.79m for $35.12m after 17 days and Ip Man 3, which earned $1.66m for $121.57m after 24 days.
The only other new entry was Behind The Yellow Line, which debuted in seventh place with $1.13m from its first three days. The 1984 Hong Kong classic is being released in China for the first time to coincide with the 13th anniversary of superstar Leslie Cheung's death. Directed by Taylor Wong, the romantic drama stars Cheung, Maggie Cheung and Anita Mui.
Rounding out the chart were holdovers The Mermaid, which added $0.74m from $514.81m after 49 days; Kung Fu Panda 3, which added $0.61m from $151.57m after 59 days; and Eddie The Eagle, which took $0.55m for $0.96m after ten days.
Upcoming major releases include Sammo Hung's The Bodyguard, Yang Qing's Chongqing Hot Pot and Zhang Qi's Who Sleeps My Bro?, all scheduled for Apr 1.