Documentary Earth: One Amazing Day to be the first feature produced under the UK-China film co-production treaty; new Sherlock special to screen in Chinese cinemas.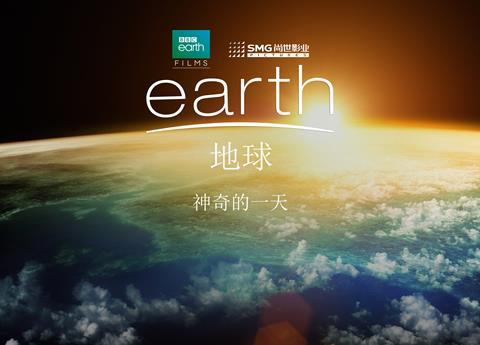 BBC Earth Films and SMG Pictures have announced a partnership to create new feature film Earth: One Amazing Day (working title), with release set for 2017.
The documentary is the sequel to the BBC's 2007 documentary, Earth, and is the first feature film to be produced under the UK and China film co-production treaty, signed last year.
It will be directed by British filmmaker Peter Webber (Girl with a Pearl Earring, Emperor, Hannibal Rising), working with the BBC's nature filmmakers, together with an as-yet-unnamed Chinese director.
The deal will be signed at a ceremony in London today (Sep 21) with Wang Jianjun, director-general and president, representing SMG and Paul Dempsey, president, global markets, representing BBC Worldwide.
The signing ceremony will take place at the creative showcase being held at Lancaster House in London as part of the official Chinese state visit to the UK this week.
Amongst the guests attending the event will be Sue Vertue, board director of Hartswood Films and series producer of Sherlock, to mark the announcement that Sherlock – starring Benedict Cumberbatch and Martin Freeman - is set to be shown in cinemas in China.
Pending regulatory approval, the new BBC One Sherlock special will be released in theatres as part of a global cinema event. Since first launching in China in 2010 the series has developed a major following, with more than 98 million views of the last season alone.
Tim Davie, CEO of BBC Worldwide, said: "Today's announcements herald an exciting new collaboration between the Chinese and British creative industries.
"There is a keen appetite in China for premium British content and creating two new cinematic experiences in partnership with SMG Pictures is a landmark moment for two of our biggest brands, Sherlock and BBC Earth."
Madame Wang, director-general and president of SMG said: "I am delighted that SMG Pictures will be the co-producer of the first feature film to be produced under the landmark UK and China film co-production treaty.
"This milestone event will act as a bridge between Sino-UK cultural exchanges and set up a new model for Sino-UK collaboration."
Earth: One Amazing Day will be co-produced between SMG Pictures, the film and television production arm of Shanghai Media Group and BBC Earth Films. The ambition is to forge a new collaboration between the British and Chinese creative industries.
The film will tell the story of one day in the natural world on Earth. Slated for theatrical release in 2017, the film will launch a decade after the release of Earth and will use the "latest innovations in film technology".
SMG Pictures will distribute Earth: One Amazing Day on the Chinese mainland.
The Sherlock Special will see Cumberbatch and Freeman reprise their roles as Holmes and Watson in a one-off episode set in Victorian London in 1895.
The episode has been co-written by Steven Moffat and Mark Gatiss and will also see series regulars Rupert Graves, Una Stubbs, Louise Brealey and Amanda Abbington join the cast. It is directed by Douglas Mackinnon (Doctor Who, Line of Duty).
Sherlock is produced by Hartswood Films for BBC One and co-produced by Masterpiece.