The merits of 'True VR' versus 360 video was among topics discussed at the MBI Media Summit in London.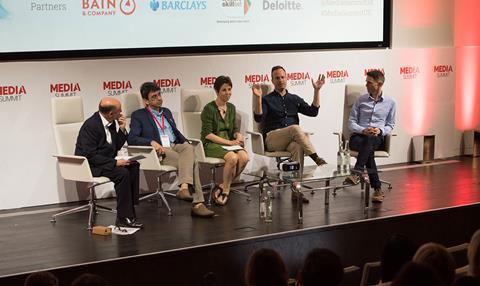 The future of the Virtual Reality medium was debated during the 'VR Or Too Much PR?' session held at the MBI Media Summit conference in London yesterday (June 7).
The panel, comprising Zillah Watson of the BBC's research and development department, Neil Graham of Sky VR/Movies, Jon Wadelton from London-based software house The Foundry, and Anthony Karydis of content creators Mativision, addressed the recent evolution of VR, and how much it was likely to grow in the near future.
"If your only business is VR you don't have a business," quipped moderator Torin Douglas, quoting an apparently oft-used adage in the industry.
The panelists universally disagreed with that notion, all backing the idea that VR was going to be big stand-alone business in the next 2-3 years, particularly as it begins to populate the home market.
"We're still in the very nascent stage of our industry," said Sky's Neil Graham, quoting the broadcaster's recent experiments with VR content including movies and sports.
Citing the example of a VR experience created by Sky Movies around the release of the recent Hobbit trilogy, Graham said the response had been "phenomenal" from users.
The BBC's Zillah Watson added that VR's power "has now been understood" and that the current revolution was "very similar to the 1930s when people first began to understand what you could do with television".
She discussed the difference between what she referred to as 'true VR', and 360 videos viewed through a VR headset, stating that true VR is "ultimately more powerful" and would be the future of the medium. Watson described 'true VR' as a more immersive and technically advanced process than other similar experiences.
Anthony Karydis of Mativision agreed that 360 video experiences were not necessarily the future of the medium, saying that "the wow factor has worn off very quickly", but he insisted that any formats could work if those responsible for making content were creative enough.
"Original content is key, we need to find new ways of telling stories in VR," he stated.
Wadelton echoed that statement. "Content will make or break VR. It has to be compelling," he said, using the example of Sony's Can You Walk the Walk? [pictured] VR experience, which places users between the towers of the World Trade Center in 1974. He added that the result was so immersive that he personally couldn't do it due to his fear of heights.
The representatives of both Sky and the BBC insisted that they were committed to continuing to explore uses for VR, innovating at any opportunity.
"We're very invested in innovation. This is still a brand new experience. We'll be miles further forward in the next six months," added Graham.
One audience member challenged Watson as to whether VR development was an appropriate use of licence payer's money, to which she responded that "an R&D department in any organisation is expected to understand the future of technology. It's absolutely right that we should be exploring such a powerful technology".
Challenges
The four speakers were all unified that the most difficult aspects of VR were the technical challenges, including the awkwardness of the cameras and the lengthy post-production process.
Waston cited the example of a BBC VR news report filmed last year at the Calais Jungle migrant camp. "We concluded fairly quickly that trying to switch on six go-pros and get them all working while people were chasing you with CS gas was not going to work," she recalled.
"There's currently always something that goes wrong," admitted Watson. "It's really early days," she added, saying that she expected these teething issues to be largely conquered in two or three years' times.