Logan hits $100m; A Dog's Purpose holds onto second spot.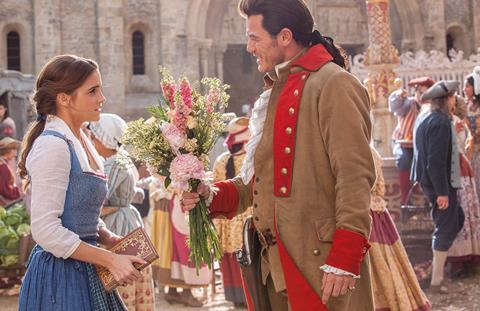 Led by Beauty And The Beast, Hollywood continued to blossom at the Chinese box office in the week of Mar 13-19 despite the continuing downward trend of the weekly box office. Last week's box office dropped an approximately 9% week-on-week.
Disney's live-action remake of its animation Beauty And The Beast took the top spot with $46.74m from its three-day opening debut, representing about 48% of the week's total box office. It has also become the biggest Disney live-action debut in China, with its opening numbers almost matched that of its live-action/CG hybrid Jungle Book, which went on to gross $142m (based on current exchange rate) last year.
A Dog's Purpose held on tight to the second spot in its third week with $21.56m. Directed by Lasse Hallstrom, the family film which revolves around a devoted dog has become a surprise hit with a 17-day total of $75.43m. It marked the first film from Amblin Partners since its partnership with Alibaba Pictures last October.
Two-time former table-topper Logan, dropped to third with $13.52m for $101.01m after 17 days. Fox's Wolverine spin-off is expected to surpass 2014's X-Men: Days Of Future Past, but probably not 2016's X-Men: Apocalypse.
It was followed by Sony's Resident Evil: The Final Chapter on $6.16m for $159.41m after 24 days; and the re-release of 2009's McDull, Kung Fu Kindergarten from the most popular Hong Kong animation franchise with $1.10m.
The rest of the chart was filled by holdovers: Japanese fantasy film Kingsglaive: Final Fantasy XV on $1.02m for $4.07m after 10 days; animated musical Sing on $0.75m for $30.40m after 31 days; Michael Grandage's Genius on $0.63m for $2.00m after 10 days; local horror Death Oujia 2 on $0.62m for 41.65m after 10 days; and animation The Lego Batman Movie on $0.51m for $5.88m after 17 days.
Upcoming releases include Top Funny Comedian: The Movie, Kong: Skull Island and The Summer Is Gone, all dated for Mar 24.