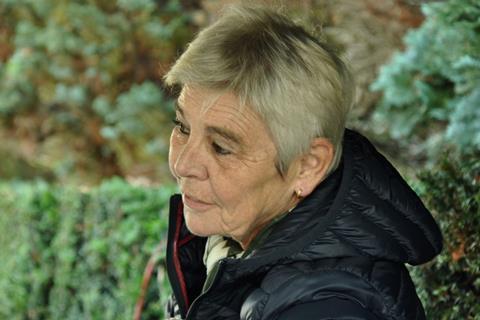 Belgian filmmaker, producer and actress Marion Hansel has died aged 71 after a heart attack.
Some of her best-known films as a director include Between The Devil And The Deep Blue Sea, which played in competition at Cannes in 1995, and Dust, which won the Silver Lion at Venice in 1985.
Hansel was at the International Film Festival Rotterdam (IFFR) for a retrospective of her work in January, where she spoke to Screen about how a trip to hospital inspired her recent autobiographical essay film, There Was A Little Ship.
Born in Marseille, France, in 1949, Hansel grew up in the Belgian city of Antwerp. Her studies took her to art school in the UK, Annie Fratellini's Circus School in Paris and Lee Strasberg Actor's Studio in New York. She also studied dramatic arts in Brussels and Paris, which began her career as an actress.
After performing on stage in Brussels and winning small parts in television and film, she was hired by Agnes Varda to display her circus skills in One Sings, The Other Doesn't, which played at Toronto in 1977.
That same year, Hansel created production company Man's Films to make the short film she had written, Equilibres. Her first feature followed in 1982, Le Lit, which went on to be nominated for a Cesar for best French-language film.
Her breakthrough international film was Dust, based on the novel by South Africa's JM Coetzee, which starred Jane Birkin and featured one of the final on-screen performances of Trevor Howard. It won the Silver Lion at Venice in 1985, awarded to the best first or second feature by a director, and was Belgium's entry for best foreign language film at the 58th Academy Awards (although it did not make the shortlist).
Hansel directed The Cruel Embrace in 1987, the same year she was named Belgian Woman of the Year, and followed this with Il Maestro, starring Malcolm McDowell and Charles Aznavour, which won the audience award at San Sebastian in 1990.
It was in 1995 that her drama Between The Devil And The Deep Blue Sea, starring Stephen Rae, was selected to play in competition at Cannes and reflected her style of deeply emotional films that explore relationships between young people and adults.
She remained prolific throughout the rest of her life and career, co-producing several films such as Danis Tanovic's No Man's Land, which won the best foreign language film Oscar in 2002.
Her other features as a director included documentary Clouds: Letters To My Son, in which she travelled the world filming clouds, and Sounds Of Sand, which screened at more than 50 festivals and played in competition at San Sebastian in 2006.
Hansel's recent autobiographical film There Was A Little Ship received its international premiere at this year's IFFR and uses newly-shot material, archival footage and voice-over to revisit places where she spent time as a child, teenager and adult.
Speaking to Screen in January, Hansel said she did not have a new film she wanted to direct but planned to write short stories, having long abandoned the trapeze. "No, no more circus," she said. "I go swimming."