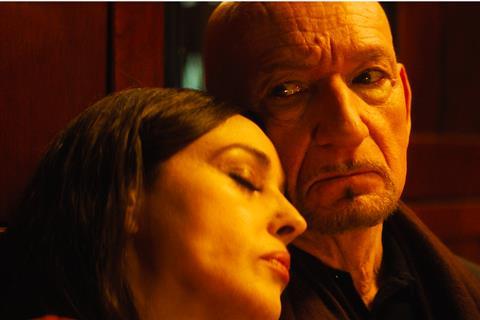 London-based Film Constellation has sold out its Ben Kingsley and Monica Bellucci spy drama Spider In The Web and struck a North American deal with Vertical Entertainment.
Eran Riklis' latest film centres on a young agent dispatched to follow an older operative whose behaviour has come into question and is following a tip on a chemical weapons sale to a Middle Eastern dictatorship.
Israeli actor Itay Tiran (Lebanon) also stars. Film Constellation co-financed Spider In The Web and announced the project and previously licensed Germany (Concorde/Telemuenchen), Greece-Cyprus (Tanweer), Netherlands (September), Universal for the rest of the world excluding China, Israel, Portugal, and Belgium, and Captive Entertainment for airlines.
Peter Jarowey and Josh Spector negotiated the deal for Vertical. The film is in post and is set for a fourth quarter theatrical release.
Gidon Maron and Emmanuel Naccache wrote the screenplay to the Israel-Benelux-Portugal coproduction. Moshe and Leon Edery of United King Films and Michael Sharfshtein of Topia Communications and Riklis (Israel), Jacqueline de Goeij of Cine Cri de Coeur (Belgium), Sabine Brian and Ronald Versteeg of NL Films (the Netherlands), and Eyal Edery of Dragocom (Portugal) produced. Executive producers are Ira Riklis, Schaul Scherzer, Dana Lustig and Film Constellation's Fabien Westerhoff.
Finance and support came from United King Films Distribution, The Yehoshua Rabinovich Foundation for the Arts – Cinema Project, Israel Ministry for Culture & Sport, The Israel Film Council, BNP Paribas Fortis Film Finance, Screen Flanders, the Netherlands Film Production Incentive, October 2nd Productions, Lavender Pictures and the Antwerp Film Bonus.
"I'm super proud to bring this suspenseful, intriguing and emotional story to the screen," said Riklis, whose credits include Berlin 2008 Panorama audience award winner Lemon Tree, and 2012 Toronto selection Zaytoun. "With truly wonderful performances, a strong and timely plot and a very personal vision, I'm sure Spider In The Web will touch the hearts of audiences worldwide".
Film Constellation's current slate includes Cannes Un Certain Regard selection Bull by Annie Sliverstein, and Werner Herzog's Cannes out of competition screening Family Romance.