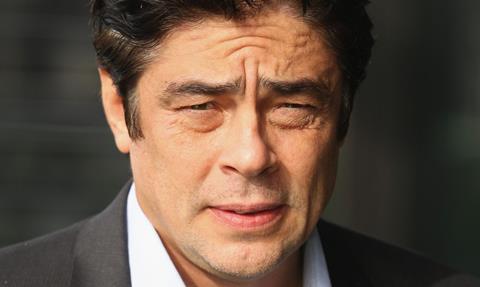 Benicio Del Toro, who stars in the upcoming Sicario sequel Soldado, will receive the CinemaCon Male Star of the Year Award later this month.
Del Toro will receive the honour at the CinemaCon Big Screen Achievement Awards ceremony on April 26 in Las Vegas.
It was announced last week that the Puerto Rican-born star will chair the Un Certain Regard jury in Cannes.
"From his commanding breakthrough performance in The Usual Suspects to his Academy Award winning role in Traffic, Benicio Del Toro has captivated audiences for years with thought provoking characters and worldly charm," CinemaCon managing director Mitch Neuhauser said.
"Benicio is a master at creating unique, interesting, and intensely driven characters who more often than not are motivated by a compassionate and personal backstory allowing him to tap into his creative talents. What a great honour for our industry to be able to honour Benicio Del Toro at this year's convention."
Del Toro made his feature film debut in License To Kill, and went on to star in films like The Indian Runner, The Usual Suspects, Basquait, Fear And Loathing In Las Vegas, Traffic, 21 Grams, Savages, and Sicario.
He retruns as the no-frills hitman in Sicario: Day Of The Soldado, which Sony Pictures will distribute on June 29.
Stefano Sollima directed from a screenplay by Taylor Sheridan. Josh Brolin returns, and Basil Iwanyk, Edward L. McDonnell, Molly Smith, Thad Luckinbill, and Trent Luckinbill serve as producers.
Previously announced 2018 honourees include: Taron Egerton – CinemaCon Action Star of the Year Award; Dakota Johnson – CinemaCon Female Star of the Year Award; Lil Rel Howery – CinemaCon Breakthrough Performer of the Year Award; Gabrielle Union – CinemaCon Breakthrough Producer of the Year Award; and Samuel L. Jackson – 2018 Cinema Icon Award.
Other recipients include: Caribbean Cinemas president Robert Carrady – Career Achievement in Exhibition Award; Kurt Rieder, Fox International executive vice-president, Asia Pacific – Passepartout Award; Kate McKinnon – CinemaCon Comedy Star of the Year Award; J.A. Bayona –CinemaCon International Filmmaker of the Year Award; Tiffany Haddish – CinemaCon Female Star of Tomorrow Award; Cinépolis CEO Alejandro Ramírez Magaña – 2018 NATO Marquee Award.
CinemaCon takes place from April 23-26.