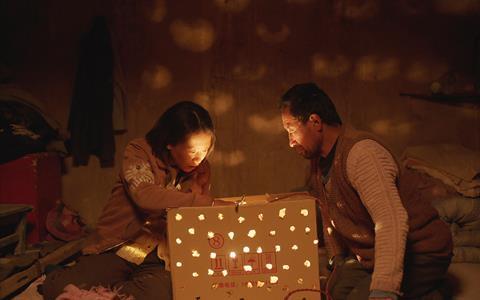 German sales outfit M-Appeal has closed further deals on Li Ruijun's Chinese title Return To Dust, one of the buzz films in the Berlinale competition earlier this year,
The drama has now gone to Germany and Austria, where it has been picked up by Rapid Eye Movies, and to New Cinema in Israel.
The sales come as the film continues to do brisk box office in China itself, according to M-appeal and the film's producer Zhang Min. It was released in its home market by Kashi J.Q. Pictures Company on 11,000 screens on July 8th, opening with a first- day box office of RMB 350,000, according to figures from ticketing apps Maoyan and Taopiaopiao.
It has grossed RMB 13m to date, with an estimated final box office of RMB 18m. That is around $2.7m, a strong haul for a non-mainstream title in China, as is the 362,000 admissions garnered to date.
"Distributing arthouse films in China is challenging because they have to compete with commercial films," Zhang told Screen. "The distribution of arthouse films is still in at the exploration stage, we are working with the theatrical operators trying to expand the space for arthouse films and help arthouse filmmakers find their places in the market."
Helping its performance in China, Return To Dust scored strongly both on 'Douban', the country's review-aggregation website for film and TV, and on Taopiaopiao and Maoyan.
The film tells the story of an unassuming couple, played by Wu Renlin and Hai Qing, forced into an arranged marriage and who build a farm together. Against the odds, their relationship thrives.
It was produced through Qizi Films, Beijing J.Q. Spring Pictures Company, Such a Good Film, Beijing Alibaba Pictures Culture Co, Dream Media Co, Hucheng No.7 Films, Aranya Pictures Co., Hangzhou Qin Zi Zai Co, and Beijing Showcase Culture Media Co.
Germany and Austria
Cologne-based Rapid Eye Movies will release the film theatrically in Germany and Austria in early 2023. The company's recent slate includes Ryusuke Hamaguchi's Drive My Car, Gaspar Noé's Vortex and the restored version of Claire Denis' cult movie Trouble Every Day.
"From the very first shot of the film we engage with the main characters` everyday life and growing love and respect towards each other. Like they do…we start to see the beauty of life in little details, even in a harsh environment, we emotionally grow with them," said Rapid Eye's managing directors Stephan Holl and Antoinette Köster.
Tel Aviv-based New Cinema, whose recent slate includes such titles as Broker, The Worst Person In The World, The Eight Mountains and Boy From Heaven, will be releasing the film theatrically in Israel.
"It happens in China but resonates everywhere in the world," said the company's managing director Daniel Melamed.
Following its Berlinale premiere in February, Return To Dust sold to multiple territories, among them France (ARP), US (Film Movement), Italy (Tucker), UK+Ireland (Modern Films), Benelux (September Film), CZ+ SK (Film Europe), Switzerland (Trigon), Japan (Moviola), Spain (BTeam), Greece (Ama Films), MENA region (Moving Turtle), and Portugal (Alambique). It is the only film from mainland China to have been selected in the main competition at Berlin, Cannes or Venice since 2019.
Return To Dust receives its UK premiere in the 'heartbreakers' strand at next month's Edinburgh International Film Festival.