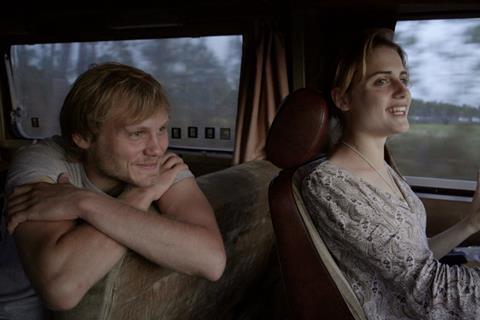 The Berlin Film Festival (15 - 25 Feb)has revealed the full list of titles that will play in this year's Generation sidebar, which focuses on youth and children's films.
In total there are 65 films, 30 of which are feature length in the Generation Kplus and Generation 14plus competitions. They hail from 39 production and co-production companies.
The first batch of Generation titles were announced in December.
Hans Weingartner's 303 will open The Generation 14plus competition, with Weingartner and the cast attending. Danish animation Den Utrolige Historie Om Den Kæmpestore Pære (The Incredible Story Of The Giant Pear) will open the Generation Kplus competition.
Maryanne Redpath, Berlinale Generation section head, said: "Every single selection is an invitation to the audience to experience life from the perspective of youth. They are films with young people, as opposed to about them. An impressive characteristic throughout the programme is not only the deep respect with which the filmmakers paint portraits of their protagonists, but also the immediacy and intimacy with which they approach these very individual world views."
The full list of feature-length films for both competitions is below:
Generation14plus
Adam
Germany / Iceland / USA
Dir. Maria Solrun
World premiere
Dressage
Iran
Dir. Pooya Badkoobeh
World premiere
Fortuna
Switzerland / Belgium
Dir. Germinal Roaux
World premiere
Hendi & Hormoz
Iran / Czech Republic
Dir. Abbas Amini
World premiere
High Fantasy
South Africa
Dir. Jenna Bass
European premiere
Kissing Candice
Ireland / United Kingdom
Dir. Aoife McArdle
European premiere
Retablo
Peru / Germany / Norway
Dir. Álvaro Delgado-Aparicio L.
European premiere
What Walaa Wants
Canada / Denmark
Dir. Christy Garland
World premiere
Previously announced titles:
303
Germany
Dir. Hans Weingartner
World premiere
Cobain
Netherlands / Belgium / Germany
Dir. Nanouk Leopold
World premiere
Danmark(Denmark)
Denmark
Dir. Kaspar Rune Larsen
International Premiere
Güvercin (The Pigeon)
Turkey
Dir. Banu Sıvacı
World premiere
Les Faux Tatouages (Fake Tattoos)
Canada
Dir. Pascal Plante
European Premiere
Para Aduma (Red Cow)
Israel
Dir. Tsivia Barkai Jacov
World Premiere
Unicórnio (Unicorn)
Brazil
Dir. Eduardo Nunes
International premiere
Virus Tropical
Colombia
Dir. Santiago Caicedo
European premiere
Generation Kplus
Blue Wind Blows
Japan
Dir. Tetsuya Tomina
World premiere
Ceres
Belgium / Netherlands
Dir. Janet van den Brand
World premiere
Cirkeline, Coco Og Det Vilde Næsehorn (Circleen, Coco And The Wild Rhinoceros)
Denmark
Dir. Jannik Hastrup
World premiere
Los Bando
Norway / Sweden
Dir. Christian Lo
International premiere
Mochila De Plomo(Packing Heavy)
Argentina
Dir. Darío Mascambroni
World premiere
Wang Zha De Yuxue (Wangdrak's Rain Boots)
People's Republic of China
Dir. Lhapal Gyal
World premiere
Previously announced titles:
Allons Enfants (Cléo & Paul)
France
Dir. Stéphane Demoustier
World premiere
Den Utrolige Historie Om Den Kæmpestore Pære (The Incredible Story Of The Giant Pear)
Denmark
Dir. Philip Einstein Lipski, Amalie Næsby Fick, Jørgen Lerdam
International premiere
Dikkertje Dap (My Giraffe)
Netherlands / Belgium / Germany
Dir. Barbara Bredero
International premiere
El día Que Resistía (The Endless Day)
Argentina / France
Dir. Alessia Chiesa
World premiere
Gordon Och Paddy (Gordon And Paddy)
Sweden
Dir. Linda Hambäck
International premiere
Les Rois Mongols (Cross My Heart)
Canada
Dir. Luc Picard
European premiere
Sekala Niskala (The Seen And Unseen)
Indonesia / Netherlands / Australia / Qatar
Dir. Kamila Andini
European premiere
Supa Modo
Germany / Kenya
Dir. Likarion Wainaina
World premiere