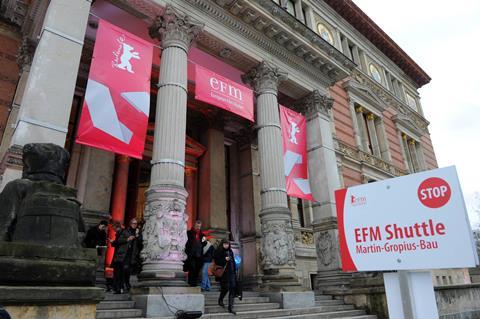 The Berlin International Film Festival will run as a physical event for 2021 and the European Film Market (EFM) will adopt a hybrid model.
The festival has also revealed its acting awards will be gender-neutral from 2021; instead of best actor and the best actress, a Silver Bear for Best Leading Performance and a Silver Bear for Best Supporting Performance will be awarded on a gender-neutral basis.
There will also be a new category called the Silver Bear Jury Prize, replacing the Silver Bear Alfred Bauer Prize which was suspended in 2020 after Bauer's Nazi links were uncovered.
"We believe that not separating the awards in the acting field according to gender comprises a signal for a more gender-sensitive awareness in the film industry," said Berlinale directors Mariette Rissenbeek and Carlo Chatrian.
In another change, the 2021Generation strand will only show feature-length films with a running time of at least 60 minutes.
Commenting on how the Berlinale will work next year, the festival said: "The implementation of the festival and market will take place in accordance with the then-applicable rules and regulations, thus ensuring the greatest possible security for all guests. Adjustments in the festival structure, the film programming and the total number of invited films will be defined by the festival management within the coming weeks."
The Berlinale is set to run February 11-21, 2021.