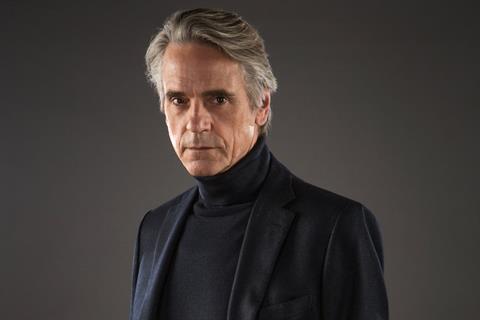 Berlin International Film Festival jury president Jeremy Irons addressed his controversial past remarks about sexual harassment, abortion and gay marriage at the festival's opening jury press conference, saying he was hoping to "put my past comments to bed."
"I should like, not as the jury president, but on a personal level to address various comments that I have reportedly made in the past, and which have resurfaced in certain sections of the press over the past few weeks," he said today (February 20). I wish I didn't have to take up time with this, but I don't want it to continue as a distraction to the Berlinale."
"Let me make my views entirely clear on these particular subjects once and for all," he added. "Firstly, I support wholeheartedly the global movement to address the inequality of women's rights and to protect them from abusive, damaging and disrespectful harassment both at home and in the workplace."
"Secondly, I applaud the legislation of same-sex marriage, wherever it has been attained. I hope that such enlightened legislation will continue to spread into more and more societies. Thirdly, I support wholeheartedly the right of women to have an abortion should they so decide."
"These three human rights are essential steps towards a civilised and humane society for which we should all continue to strive. There are many parts of the world where these rights do not yet exist, where such ways of living lead to imprisonment and even to death. I hope that some of the films we will be watching will address these problems. I look forward to watching films in this year's Berlinale which will provoke us to question attitudes, prejudices and worldwide perceptions of life as we know it."
The Berlinale's new management came under fire from the Berlin media for its choice of Irons as the official competition's jury president last month, after various controversial remarks by the actor resurfaced.
This included an interview with the UK's Radio Times magazine in 2011 when he said: "If a man puts his hand on a woman's bottom, any woman worth her salt can deal with it. It's communication. Can't we be friendly?"
Irons also argued to the Huffington Post in 2013 that legalising gay marriage might lead to fathers marrying their sons to avoid having to pay inheritance tax. However, he subsequently backtracked by telling the BBC he wished he had "buttoned my lip" before making the comments.
Finally, discussing abortion with The Guardian in 2016, he said: "I believe women should be allowed to make the decision, but I also think the Church is right to say it is a sin."
New festival director Carlo Chatrian responded to the criticism of Irons' selection at the time, saying: "Regarding the comments, we know that [Irons] already revised and announced his regret in the past and that these comments don't in any way correspond his actual position. His quotes at the time were also taken out of context. He has again reinforced that his comments back then do not represent his position and way of thinking."
This year's festival runs February 20-March 1. Irons' fellow jurors are Annemarie Jacir, Bérénice Bejo, Bettina Brokemper, Kenneth Lonergan, Kleber Mendonça Filho and Luca Marinelli.