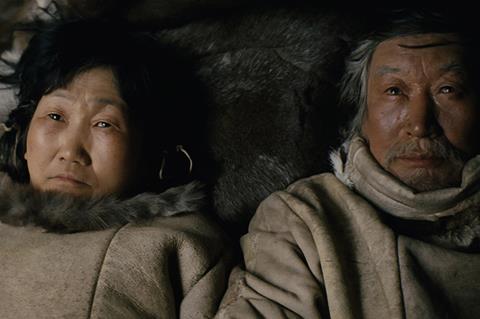 German powerhouse Beta Cinema has rounded out its Berlin slate with the acquisition of three competition premieres: Emily Atef's 3 Days In Quiberon, Thomas Stuber's In The Aisles, and Milko Lazarov's programme closer Aga (which plays out of competition).
Screen can unveil an exclusive first trailer for Aga, director Lazarov's second feature after his Venice 2013 debut Alienation. The film follows two Yakuts struggling to adapt to the changing world around them. When one falls ill, the other must journey to find their daughter.
It was produced by Red Carpet in co-production with 42film, Arizona Productions, ZDF/Arte and Bulgarian National Television.
3 Days In Quiberon is Atef's fifh feature. The director's latest work sees her turn her attention to the enigmatic Austrian-born film star Romy Schneider, exploring what happened during Schneider's last interview and photoshoot, which took place at a spa in Brittany in 1981, just a year before her death at the age of 43.
The film was produced by Rohfilm Factory in co-production with Dor Film and Sophie Dulac Productions, Tita B. Productions, Departures Film, NDR/Arte and ORF.
In The Aisles is director Stuber's third time at Berlin after his previous features Teenage Angst and A Heavy Heart played the festival in 2008 and 2016 respectively. In his new film, Victoria's Franz Rogowski plays opposite Toni Erdmann's Sandra Hüller with A Heavy Heart's Peter Kurth in the story of a supermarket shelf-stacker.
Jochen Laube and Fabian Maulbach (Sommerhaus) co-produced the feature with MDR, ARTE, SWR, HR, Departures Film and Rotor Film.
Beta Cinema has also picked up Berlin Panorama title Styx. The second feature of director Wolfgang Fischer depicts the transformation of a woman whose world is turned upside down after she comes to the aid of a group of refugees shipwrecked at sea.
The company's full Berin slate includes Rupert Everett's Berlinale Special Gala The Happy Prince, following its Sundance world premiere, and Nanouk Leopold's Cobain, which plays in Berlin's Generation 14plus section.