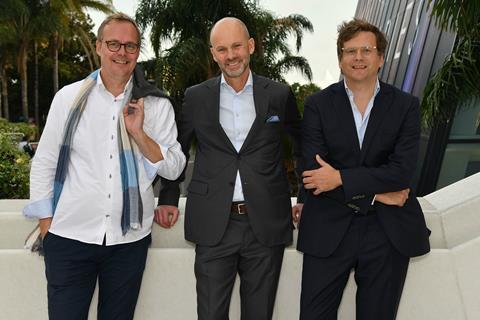 German film and TV group Beta Film is expanding its presence in the Nordics, taking a majority stake in Finnish film and TV production company Fisher King and creating regional umbrella group Beta Nordic Studios (BNS).
Beta Film first entered the Scandinavian production scene in 2016, with the creation of Dramacorp, its joint venture with veteran Swedish-French drama executive Patrick Nebout.
Its newly created BNS will serve as an umbrella for all of Beta's production activities in the Nordics. It will focus on local scripted projects with international appeal, which can be leveraged via Beta Film's international distribution network.
Beta Film's executive vice president Justus Riesenkampff and newly appointed CEO Martin Håkansson, a former executive at Lagadère Sports and Nice Entertainment Group, are serving as directors of BNS.
Beta CEO Jan Mojto unveiled details of the Nordic push at the company's traditional Mipcom opening dinner at the Colombe d'Or restaurant in Saint Paul de Vence on Sunday evening (October 13).
Mojto said expansion into the Nordics was part of Beta's commitment to make drama with global appeal out of Europe.
"Global drama doesn't mean repeating uniformity but rather supporting creativity and diversity," he said.
Shared values and vision
Created in 2013 by executive producer Matti Halonen and chief visual officer Miikko Oikkonen, Helsinki-based Fisher King has put Finnish drama on the international map with productions such as fantasy series Nymphs and Nordic noir Bordertown.
Speaking at the dinner, Halonen said he had seen the potential for working more closely with Beta, through collaborations with its joint venture Dramacorp, most recently on the latter's series Cryptid.
The recently-wrapped Swedish horror series was shot in Finland with Fisher King providing the production services.
"Beta Film understands the commercial and creative benefits of bringing together production companies that share the same values and vision," said Halonen. "This new chapter in Fisher King's own story will allow us to take that ambition higher, further and to more audiences around the world."
The Nordics have proven a rich hunting ground for European media and entertainment companies with international ambition in recent years.
Newly-appointed BNS CEO Håkansson emphasised the fact that Fisher King's goal was not "an M&A strip-and-sell mission".
"It is the very opposite. Our mission is to combine the Nordic genius for production with Beta Film's production experience and distribution power to create a joint venture that will deliver great, BNS-branded entertainment for years to come," he added.
'Agent Hamilton' opening night screening
Beta's opening night dinner followed the big screen premiere of Dramacorp's new series, Agent Hamilton, in the presence of cast and crew.
The contemporary reboot of Jan Guillou's best-selling Swedish Cold War spy novel series stars Jakob Oftebro in the role of the enigmatic, solitary undercover agent.
"This is not Scandinavian noir and Hamilton is not Bond or Bourne, this is something quite different," Motjo told the audience ahead of the screening.
The opening episode reveals Hamilton as a complex figure with unclear allegiances caught up in an international terror plot to destabilise Sweden.
In the backdrop, there is a personal childhood tragedy and a mother suffering from Alzheimer's.
Oftebro, who was an EFP Shooting Star in 2014, told Screen he had undergone gruelling physical training with former special forces officers for the role but also wanted to bring nuance to the character.
"I didn't want Hamilton to just be some muscle-chested agent who simply goes from operation to operation with a gun in his hand, I don't think that would work today," said Oftebro. "I wanted him to be more complex and for there to be backstory."
The series is produced by Dramacorp Pampas Studios and Kärnfilm in co-production with Swedish broadcaster TV4, its streaming service C-More, Beta Film and ZDF in association with ZDF Enterprises and with the support of Creative Europe, MEDIA Programme of the European Union.
It is due to air across the Nordics in January 2020.
Beta announced on Monday (October 14) that - along with TV4, C-More and Beta - it had given the greenlight for a second season to begin production at the start of 2020.