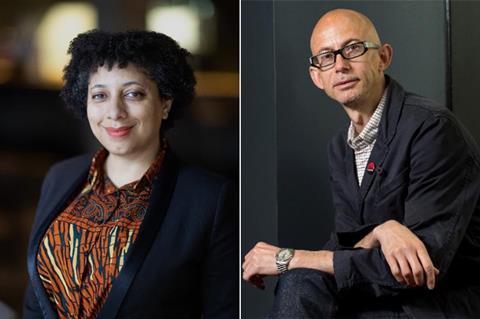 The British Film Institute (BFI) has appointed Arike Oke and Jason Wood to new roles on its executive director board.
Arike Oke joins from Black Cultural Archives. She starts in January as executive director of knowledge and collections, where she will lead the teams at the BFI National Archive and BFI Reuben Library.
She has been managing director at Black Cultural Archives since 2019, and has previously worked as an archivist for the collections of Wellcome Trust and Rambert, in audience development at the Hull History Centre and on strategic boards with The National Archives and the Mayor of London.
Wood joins in late February in the newly created role of director of public programmes and audiences, after six years at HOME in Manchester, where he is presently creative director for film and culture. His focus is broadening engagement for the BFI's public programmes in the UK and internationally, the organisation's 'digital-first' direction, and the growth of BFI Player. His remit also includes events at BFI Southbank, the BFI London Film Festival, education and learning activity including the BFI Film Academy, BFI membership strategy, Sight and Sound and audience development activities funded by the National Lottery.
Wood will split his time between London and Manchester. Prior to HOME he was director of programming at Curzon Cinemas.
The duo join the BFI's restructured executive board, led by chief executive Ben Roberts and also including Harriet Finney, deputy CEO and director of corporate and industry affairs, Francesca Vinti, executive director of fundraising and enterprise, and Alyson Hagan, who joined as executive director of finance, people and business operations in September and is based in Glasgow. The recruitment process for an executive director of technology and digital transformation is ongoing.
Arike Oke said: "From my earliest memories of soaking up Nigerian TV and Bollywood films as a child, through preserving dance history on film at Rambert, and celebrating Black film with BCA's Black Lens film festival, the diversity of screen heritage has shaped me. Now I am honoured with the opportunity to look into a digital future for the BFI National Collection."
Jason Wood said: "Under the impressive leadership of Ben Roberts, someone I am very much looking forward to collaborating with, the organisational goal is to increase access to the moving image and to remind of the power of culture as a bonding and unifying force. We want to take audiences on a virtual and physical journey, celebrating film in all its diversity; acknowledging its rich heritage whilst also plotting a course towards its future."