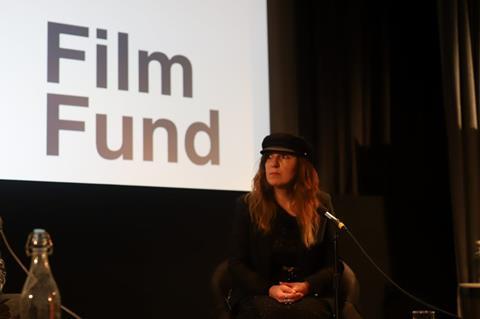 Mia Bays, who is six weeks into her three-year tenure as director of the British Film Institute (BFI) Film Fund, has kicked off a listening tour of the UK today (December 1) at This Way Up – an annual event for the independent exhibition industry, taking place at the Watershed cinema in Bristol.
Bays outlined the purpose of the tour as a chance for her to "take the temperature" from across the film industry, to help inform her next steps heading up the Film Fund.
Her plan is to meet with filmmakers, creatives and other industry figures to hear about their experiences with the Film Fund and what they would like to see from it over the next three years. Her tour will stop off at existing industry events and independent cinemas.
"I'm here in a listening capacity. I want to do this job in a way that these kinds of jobs aren't usually done," said Bays. "I'm not coming in with a big vision and a big mission. I want to take the temperature from across the UK, and internationally too. I was in Tallinn last week [at Tallinn Black Nights Film Festival] meeting a lot of my counterparts across Europe, and it was really interesting to hear how they do things.
"My listening tour is where I want to meet people from across the whole value chain, from filmmakers to audience development, cinemas, distribution, international financiers, other people who aren't in the industry yet and want to be, and particularly audiences."
Bays emphasised she wants the BFI to be "accountable" for its actions.
Bays' focus
The former director-at-large at Birds' Eye View, who has worked as a producer, in exhibition, distribution and international sales, reinforced her commitment to promoting diversity, "both on-screen and behind the screen, and within who makes the decisions. Who's in the room, and who's not in the room?"
Reducing a London-centric approach to the film industry is also of importance to Bays. "I'm going to be based between Nottingham and London. Already that's a definition of intent."
On the subject of the kinds of projects Bays is looking out for, she said: "I'm really passionate about audience and I really quite like populist cinema, but I hope to see a mix of work. How do we find the people who aren't coming to us? It's as much about who's not coming to us yet, and where do we find them?"
Synergy within the BFI is also of significance to Bays: "The amazing thing about the BFI is the scope of it – the Film Academy, Network, Film Fund and all of the audience space as well. It'll be amazing to figure out how we connect everything up a bit more."
Three-year tenure
Bays also spoke of feeling "very comfortable" with the three-year limit on her time in the role.
"It's a model that happens in Scandinavia and across Europe a lot more," she noted. "It's recognised that you have quite a lot of influence and it's like politics, you have a term. You're voted in, and then you're off. There's something quite galvanising about that, and I'm very comfortable with it. I'm a producer, I run my own businesses, I run a charity. I've never had a job for longer than four years – I thought I was unemployable. I've mainly been creating jobs for myself for quite a long time.
"You've got three years, you get in, do the job, and get out. It's useful – I feel like a host body. I'm not here to further my own career and be powerful for power's sake. I'm not interested in any of that and I thought very hard before applying for this job because of that. I feel like I want to represent in all the ways I possibly can. Visions and missions and taste – not really my bag."