Around 300 titles avaialble at launch; Mark Kermode to offer weekly pick.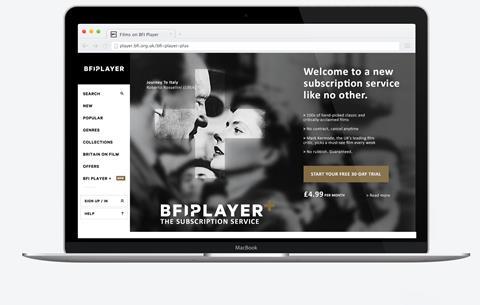 The British Film Institute (BFI) has unveiled a subscription video-on-demand service titled BFI Player+, which has launched today.
From launch, BFI Player+ will cost £4.99 a month have around 300 titles available to stream, with titles ranging from Sergei M. Eisenstein's Battleship Potemkin (1925) to David Cronenberg's Dead Ringers (1988) and Sergei Loznitsa's In The Fog (2012).
Films are grouped around genres, directors and collections such as British Classics, Horror, Indie, Documentaries, Family, Award-Winning, Unavailable on DVD and Experimenta.
In addition, critic Mark Kermode will select a key title from the BFI Player+ collections every week, beginning with an introduction to Alfred Hitchcock's The Lodger, which features a specially-created score composed Nitin Sawhney in 2012.
Edward Humphrey, digital director at the BFI said: "We bring a unique approach to subscription services: expertly curated cinema that takes audiences on a journey through the very best of film, from its early masterpieces through to contemporary greats."
There will also be collections grouped around BFI festivals such as the BFI London Film Festival and BFI Flare LGBT film festival, as well as major projects such as 2014's Sci-Fi and 2015's Love seasons.
The new service will sit within the existing BFI Player, which includes pay-per-view independent film releases and the BFI's Britain on Film archive collection, which has generated more than 4 million views since launching in July.