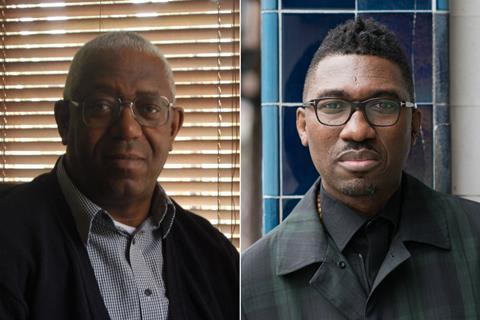 Making stars out of the UK's black film, TV and novel writers is the ambition of theatre, film and TV director Alby James, head of development at the Ida Rose production outfit.
He has teamed with Kwame Kwei-Armah, artistic director of London's Young Vic Theatre, for the 'Taking Black Writers Seriously' showcase and pitching event for 10 black novelists and film and TV screenwriters at the BFI London Film Festival on Friday, October 16.
James has been working with the selected writers throughout the year to workshop projects with UK film and TV executives including Hugo Heppell, senior portfolio manager at Channel 4, and development producer Tendayi Nyeke at Triggerfish Animation Studios. Now they will present them to an invited audience of literary editors and film and TV producers.
The event will feature an introduction from UK writer-director Amma Asante whose credits include Belle and A United Kingdom.
Additionally, the LFF programme also features a pre-recorded conversation called Telling Black Stories on Screen in which Kwei-Armah will talk with Kemp Powers, co-director of Disney's Soul and writer (both the original play and screenplay) of Regina King's One Night In Miami, both playing at LFF.
What was the genesis behind the Taking Black Writers Seriously event?
Alby James: Number one: Black Lives Matter. Number two: Neil Peplow, Ben Roberts (director of international affairs and CEO respectively at the BFI) and I have had long conversations about what the BFI should be doing, supporting black filmmakers and writers.
Earlier this year, BFI agreed that we take a delegation of 17 black filmmakers and curators to the Berlinale Africa hub, so we could really signal that, post-Brexit, we're still going to be strongly involved in Europe and working with filmmakers in other parts of Africa, and the diaspora.
Kwame Kwei-Armah: Black Lives Matter catalysed our country and the world into a different position. The time for talk was done; we wanted to do something that had action deeply embedded in it. That was: let's get people in front of people. Ben Roberts said to me that we're in the legacy business. We should be making stars, not relying on stars. And I think that's right at the core of what Alby has articulated and is trying to get off the ground. It's so that we don't have to have this discussion again in 10 years' time.
The event aims "to draw attention" to frustration around stereotyping of black creativity. Who needs to be paying attention?
KKA: One of the dilemmas we have faced as a community is that the creative industries invariably attract the most empathetic, politically progressive people from our society. And then the system doesn't reward that kind of progression when it comes to artists of colour. So the answer to the question is, the real people who need to listen are audiences. Audiences – white audiences on the whole – tend to be slightly more tribal than black audiences. Because of the lack of representation on our screens, historically, we have had to be able to see the universal through any lens: be they white or be they Asian, we can see ourselves in that story.
We've been told viewing numbers and international sales have been low when it's a black story because we've just seen the black story as being culturally specific and not universal. The moment that audiences change, our very empathetic commissioners will actually jump at the opportunity of being able to program and commission more diverse work. So that's the 'uber' answer, but actually it is the commissioners – we would want the commissioners who wish to have more tools in their toolbox when they want to commission.
For too long we've worshipped at the altar of all things African American; many of our creatives have gone over to America and succeeded. Why? Because we are equally as talented as our African American cousins and brethren. We need to invest – to make sure that at the end of the development process, things are being produced and marketed properly.
How did you select the participating writers?
AJ: We started with over 20 participants [in his year-round unofficial development lab]; we've whittled it down to 10 [for the showcase]. The whole point of doing a development lab is to test the people in their understanding and professionalism, but also to test the idea and to see how well people cooperate. The ones we're not going to put in the showcase, it's because they're not ready. But we're still going to carry on supporting them to go forward.
What are some recent examples of film and TV that have reflected the diversity of black people and their lives in the UK in your opinion?
KKA: Michaela Coel and I May Destroy You. Also Sitting In Limbo [a 2020 BBC TV film about the Windrush scandal]. It's magnificently particular about Windrush, but actually it had a huge emotional punch that could translate universally right across the world.
AJ: Amma Asante's Belle has to be included in that list. In the Edinburgh TV Festival this year, every writer, producer and director who was from a black background spoke about the lack of opportunity to tell other stories. If you look at who's been backed in the past, they've either had to [have] a star actor – Idris Elba, John Boyega – or a writer who has been around for 30-odd years who is really well known, such as Malorie Blackman.
They aren't going to people whose job it is to produce and develop over a long period; they aren't going to the playwrights who have really proven themselves. We have to relate to that creative world – the theatre, the writers of poetry, and the novel and short story – in a much more dynamic way to identify that talent and bring them in.