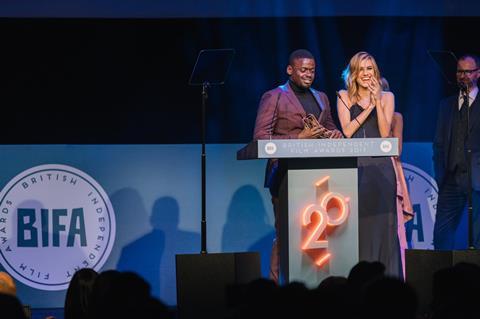 The British Independent Film Awards (BIFA) has postponed the entry deadline for its 2020 awards following changes to the festival calendar and uncertainty surrounding release dates.
Entries for the 2020 awards will now remain open until September 25, extended from August 28.
The late feature entry deadline now stands at Friday, October 2; with the deadline for entry materials at October 9; and the screening deadline (by when all films must be available to voters) at October 19.
Consequently, the reveals of the longlists, nominations, and winners are also being pushed back, with dates for those events - including the ceremony - to be announced in due course.
"We want to make sure that BIFA supports and celebrates the industry as much as possible during this very unusual year and think that this extended entry deadline will help to ease pressure at what is (even in a normal year) a very busy time," said BIFA directors Amy Gustin and Deena Wallace.
BIFA is currently in discussions with distributors about how best to make the 2020 awards work; in June, Gustin and Wallace told Screen that one contingency plan involves six smaller ceremonies focused on separate sets of categories.
The relaxed entry rules for 2020 in response to the Covid-19 pandemic, revealed by Screen in June, are still in effect. If a film was programmed to play at a festival or to screen on general release but did not do so due to the impact of the pandemic, it will remain eligible for BIFA regardless of how its release strategy changed to accommodate the circumstances.
Waad al-Kateab and Edward Watts' refugee documentary For Sama won the top prize of best British independent film at the 2019 ceremony, as well as best director, best documentary, and best editing.