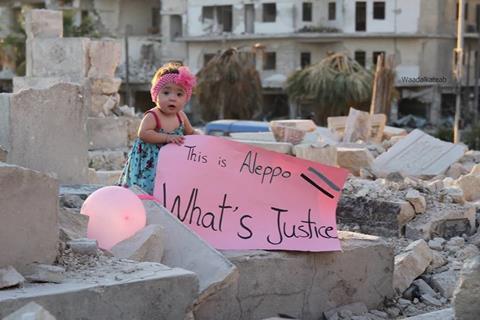 For Sama and The Personal History Of David Copperfield were the big winners at the 2019 British Independent Film Awards (BIFAs).
Scroll down for full list of winners
The ceremony was hosted by actress and comedian Aisling Bea and held at London's Old Billingsgate tonight (Dec 1).
Syrian civil war documentary For Sama scooped the night's top prize, best British independent film, as well as best director for Waad al-Kateab and Edward Watts, best documentary, and best editing at the previously announced craft awards last month. On stage, Kateab said: "I really believe that one day Syria will be free and Assad will be gone."
The Personal History Of David Copperfield finished with five awards, the highest of the night, from 11 nominations, with Hugh Laurie winning best supporting actor and Armando Iannucci and Simon Blackwell taking home the best screenplay prize. It previously also won for casting, costume design and production design. Accepting the award, Iannucci paid tribute to Charles Dickens' contemporary relevance, adding that "our prime minister is a Dickensian character, because he speaks mostly in fiction."
Wild Rose had ten nominations but didn't win any prizes on the night, but it did pick up best music for Jack Arnold at the craft wards.
Renée Zellweger won best actress for her performance as Judy Garland in Judy, which also previously won best make-up and hair design.
The best actor award went to Josh O'Connor for Only You, with Harry Wootliff winning best debut director.
Shola Amoo's The Last Tree won two awards: best supporting actress for Ruthxjiah Bellenea and most promising newcomer for its lead Sam Adewunmi.
Kate Byers and Linn Waitewon won the breakthrough producer award for Mark Jenkin's Cornish fisherman drama Bait.
Emma Jane Unsworth picked up the debut screenwriter prize for adapting her own novel Animals, which starred Holliday Grainger and Alia Shawkat.
Bong Joon Ho's Palme d'Or winner Parasite won best international independent film.
The Raindance Discovery Award went to Himalaya school children documentary Children Of The Snow Land.
The outgoing CEO of the BFI Amanda Nevill collected the special jury prize, with the previously announced Kristin Scott Thomas picking up the Richard Harris award for outstanding contribution by an actor to British film. On stage she mentioned turning down Gladiator, which starred Harris, saying: "you have given me an award that will always remind me of my most idiotic career decision!"
Full list of winners
Winners in bold
Best British Independent Film
Bait, Mark Jenkin, Kate Byers, Linn Waite
For Sama, Waad Al-Kateab, Edward Watts
The Personal History Of David Copperfield, Armando Iannucci, Simon Blackwell, Kevin Loader
The Souvenir, Joanna Hogg, Luke Schiller
Wild Rose, Tom Harper, Nicole Taylor, Faye Ward
Best Director
Waad Al-Kateab, Edward Watts, For Sama
Oliver Hermanus, Moffie
Joanna Hogg, The Souvenir
Mark Jenkin, Bait
Asif Kapadia, Diego Maradona
Best Screenplay
Joanna Hogg, The Souvenir
Armando Iannucci, Simon Blackwell, The Personal History Of David Copperfield
Paul Laverty, Sorry We Missed You
Peter Strickland, In Fabric
Nicole Taylor, Wild Rose
Best Documentary
Coup 53, Taghi Amirani, Walter Murch, Paul Zaentz
Diego Maradona, Asif Kapadia, James Gay-Rees, Paul Martin
For Sama, Waad Al-Kateab, Edward Watts
Seahorse, Jeanie Finlay, Andrea Cornwell
Tell Me Who I Am, Ed Perkins, Simon Chinn
Best Actress
Jessie Buckley, Wild Rose
Holliday Grainger, Animals
Sally Hawkins, Eternal Beauty
Vicky Knight, Dirty God
Renée Zellweger, Judy
Best Actor
Sam Adewunmi, The Last Tree
Tom Burke, The Souvenir
Kris Hitchen, Sorry We Missed You
Josh O'Connor, Only You
Dev Patel, The Personal History Of David Copperfield
Best Supporting Actress
Jessica Barden, Scarborough
Ruthxjiah Bellenea, The Last Tree
Elizabeth Debicki,Vita & Virginia
Tilda Swinton, The Personal History Of David Copperfield
Julie Walters, Wild Rose
Best Supporting Actor
Chiwetel Ejiofor, The Boy Who Harnessed The Wind
Hugh Laurie, The Personal History Of David Copperfield
Edilson Manuel Olbera Nuñez, Yuli – The Carlos Acosta Story
Peter Mullan, The Vanishing
Bluey Robinson, Dirty God
Most Promising Newcomer
Sam Adewunmi, The Last Tree
Vicky Knight, Dirty God
Lorn Macdonald, Beats
Roxanne Scrimshaw,Lynn + Lucy
Honor Swinton Byrne, The Souvenir
The Douglas Hickox Award (Debut Director)
Will Becher, Richard Phelan, A Shaun The Sheep Movie: Farmageddon
Fyzal Boulifa, Lynn + Lucy
Ninian Doff, Boyz In The Wood
Chiwetel Ejiofor, The Boy Who Harnessed The Wind
Harry Wootliff, Only You
Debut Screenwriter
Kieran Hurley, Beats
Lisa Owens, Days Of The Bagnold Summer
Nicole Taylor, Wild Rose
Emma Jane Unsworth, Animals
Harry Wootliff, Only You
Breakthrough Producer
Finn Bruce, Tucked
Kate Byers, Linn Waite, Bait
Joy Gharoro-Akpojotor, Blue Story [also produced by Damian Jones]
Becky Read, Three Identical Strangers [also produced by Grace Hughes-Hallett]
Jack Sidey, Moffie [also produced by Eric Abraham]
The Raindance Discovery Award
A Bump Along The Way, Shelly Love, Tess Mcgowan, Louise Gallagher
Children Of The Snow Land, Zara Balfour, Marcus Stephenson, Mark Hakansson
Here For Life, Andrea Luka Zimmerman, Adrian Jackson, James Lingwood, Michael Morris, Cressida Day
Muscle, Gerard Johnson, Matthew James Wilkinson, Richard Wylie, Ed Barratt
The Street, Zed Nelson
The Richard Harris Award for Outstanding Contribution by an Actor to British Film
Special Jury Prize