Other winners include Mikhail Red's Eerie and Bu Wei's Man Of Sin.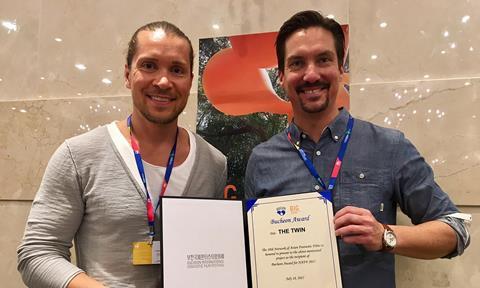 At the 21st Bucheon International Fantastic Film Festival (BIFAN) today, the Network of Asian Fantastic Films (NAFF)'s project market wrapped its tenth edition with the top Bucheon Award going to Taneli Mustonen's Finnish horror film The Twin.
Scroll down for the full list of awards
The Bucheon Award comes with KW15m ($13,400).
Selected to the Nordic Genre Invasion showcase, The Twin follows a family that moves to the Japanese countryside in search of redemption after one of their twins is killed in a car accident.
Mustonen's horror film Lake Bodom is currently showing in BIFAN's World Fantastic Red section.
Speaking about his project, Mustonen (pictured, top left with producer Aleksi Hyvarinen) said, "We came here and to be honest, I was rather scared to be pitching it to anyone for the first time. We learned a lot every time we pitched it. And we just came from the screening of our previous film Lake Bodom. It's been an amazing experience."
The NAFF Award of KW10m ($8,900) went to Mikhail Red's Filipino horror mystery Eerie, set in a girls' Catholic school with a clairvoyant guidance counselor.
Director Bu Wei's Chinese project Man Of Sin, a thriller built around an organ trafficking revenge story, picked up the $10,000 Signal Pictures Award as well as the MONEFF Award for editing support.
Wei got a laugh from the audience as he expressed his delight upon accepting the MONEFF Award: "I'm from China, I'm a Communist. I'm surprised you have me here and are giving me this award after all that has happened. Thank you. I've always had this struggle - whether I'm good enough. I'm always trying, always writing. Thank you for this award. It's no longer important because I've shared this experience with you and […] was inspired."
The controversial freeze on mainland China-South Korea relations in the entertainment industry after the THAAD missile defense system was deployed in Korea seems to be showing small signs of thawing and festival attendees noted the participation of Wang Fenglin, vice president and secretary general of the China Film Producers' Association at NAFF.
NAFF managing director Thomas Nam announced at today's ceremony that Wang Yi of the English-language industry publication Chinese Film Market and BIFAN fest director Choi Yong Bae signed an MOU on strengthening the cooperation between the two countries during the event.
He also noted that in total, 57 companies had over 400 meetings with the 24 selected projects this year.
FULL AWARDS LIST
Bucheon Award
The Twin (Finland) dir. Taneli Mustonen, prod. Aleksi Hyvarinen
NAFF Award
Eerie (Philippines) dir. Mikhail Red, prod. Michaela Tadena
Signal Pictures Award
Man Of Sin (China) dir. Bu Wei, prod. Li Yu
Aurora Producing Award
The Legend (Korea) dir. Lee Seungwon, prod. Lee Hyunmyoung
NAFF Korean Award
A Teacher (Korea) dir. Kim Jaeyeon, prod. Je Jeongju
DHL Award
Femme Fatale (Japan-France-Sweden) dir. Miyake Kyoko, prod. Kunizane Mizue, Guillaume de Seille, Freddy Olsson
Sitges Pitchbox Award
The Embalmer ~Face Of The Dead~ (Japan) dir. Nishimura Yoshihiro, prod. Inoue Midori
MONEFF Award
Man Of Sin (China) dir. Bu Wei, prod. Li Yu
Wave Lab Award
Imaginable (Korea-US) dir. Chris Martin, prod. Sean Dulake, Chris Martin
The Color Award
Imaginable (Korea-US) dir. Chris Martin, prod. Sean Dulake, Chris Martin