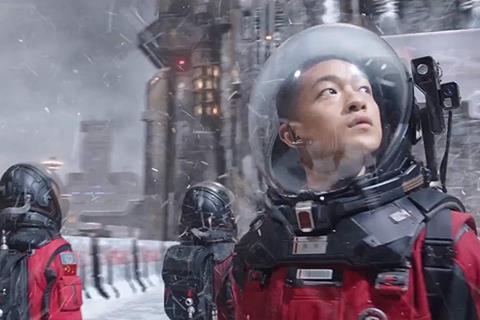 February 2019 was the biggest month in history at the Chinese box office as ticket sales crossed $1.6bn (RMB10.75bn) propelled by Chinese New Year releases. This makes it the highest-grossing month in a single market anywhere in the world ever.
It is the second time the Chinese box office has broken such a world record following February 2018.
Chinese New Year holdover The Wandering Earth retained the weekly crown for the period February 18-24, adding $80.6m for $620.4m after 20 days.
Over the three-day weekend (February 22-24), however, US cyborg action title Alita: Battle Angel topped the charts, debuting with $62m and becoming Fox's biggest launch of all time in China. Alita: Battle Angel was second behind Wandering Earth on the weekly chart.
The Wandering Earth retained the top weekly spot for the third week. Already the second biggest film of all time in China, its theatrical run has been extended for two months to May 5 (from March 6) to give it even more time to flex its box-office muscle.
Netflix has snapped up international rights to the Chinese sci-fi thriller, which stars Wu Jing, best known for Wolf Warriors 2.
Alita: Battle Angel has overtaken Bumblebee to become the biggest opening for a non-Chinese film in China this year. China is the biggest market for the film so far, ahead of North America where it has grossed $61m as of February 24.
Local title Crazy Alien was pushed to third place on the weekly chart, grossing $24.1m to notch up $306.9m after 20 days. It has now overtaken Aquaman as the 14th biggest film of all time in China. Crazy Alien stars local comedians Huang Bo and Shen Teng, with Glee actor Matthew Morrison.
Like The Wandering Earth, Crazy Alien is adapted from a story by the award-winning Chinese sci-fi writer Liu Cixin.
Local car-racing drama Pegasus grossed $23.6m over the week to take $235.2m to date.
Boonie Bears: Blast Into The Past, the sixth in the local Boonie Bears animated franchise, grossed $7.6m over the week and has now garnered $99.4m to date. It is the most successful film in the series and the second biggest local animation of all time, behind Monkey King: Hero Is Back.
Taiwanese high-school romance Fall In Love At First Kiss, starring Wang Dalu and Jelly Lin, took $5m for a cume of $23.6m after 11 days. It is unlikely to match TV director Frankie Chen's feature debut Our Times, which was a resounding success across Chinese-speaking territories in Asia, including China.
The rest of the chart was dominated by Chinese New Year holdovers: Stephen Chow's The New King Of Comedy grossed $2.9m ($88m to date); Japanese fantasy animation Maquia: When The Promised Flower Blooms took $1.6m from its first three days; The Knight Of Shadows: Between Yin And Yang, starring Jackie Chan and Taiwanese actor Ethan Ruan, grossed $900,000 ($21.6m to date) and the Hong Kong anti-corruption thriller Integrity, starring Lau Ching Wan and Nick Cheung, took $800,000 and has grossed $16m to date.
This week's new releases include How To Train Your Dragon: The Hidden World and the Oscar best picture winner Green Book, on March 1.