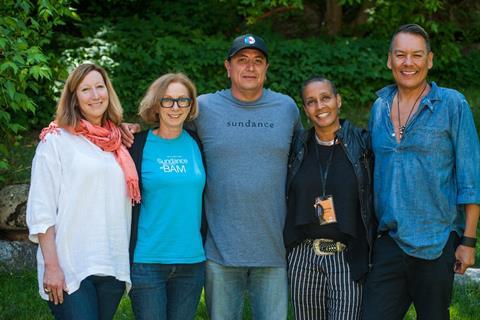 Sundance Institute's Native American and Indigenous programme director Bird Runningwater is leaving after two decades with the organisation.
Runningwater, who hails from Cheyenne and Mescalero Apache cultures, joined in 2001 as a programmer on the Native Program and worked alongside Artist Programs founding director Michelle Satter and then Sundance Film Festival director Geoff Gilmore.
He plans to move into producing and announced that from October 4 Indigenous Program staffer Adam Piron will become the programme's interim director.
In his early days at the Institute Runningwater worked on Institute labs and brought in Native artists for support with development and festival premieres. "During those early years," he noted, "this work was done often in the face of significant disinterest from the industry, but Sundance's commitment remained steady."
He curated a black-and-white short from Aotearoa/New Zealand called Two Cars One Night. The film went largely unnoticed through the festival until it began winning awards around the world. The film was by an unknown filmmaker at the time called Taika Waititi and was eventually nominated for an Oscar for best live action short in 2005.
In 2010 Runningwater was tasked by CEO Keri Putnman to create an outreach and inclusion programme. He did that and oversaw the Institute's racial equity strategies. "No other large American arts institution has such a foundation of including Indigenous artists from its beginning," he said. "I'm proud to have helped build a fledgling program into a major force in the industry and around the world. The Indigenous Program is a safe haven for Indigenous artists to flourish and build a supportive community telling innovative and untold stories of resilience, reality, humour and triumph."
Runningwater has seen Sundance mentor and support 154 Indigenous filmmakers through Sundance labs, grants, and fellowships. More than 119 films written, directed, and produced by Indigenous filmmakers have been curated to premiere at the festival, and in the last decade the Institute has accommodated artists representing nearly 100 different Indigenous nations from around the world in its programmes.
"I saw the work of supporting Indigenous artists as a ceremony of transitioning storytellers into their full potential, much like my Mescalero community does when we ritually sing our young women into womanhood and into our matriarchy," said Runningwater. "I've always believed our artists needed a culturally grounded support model in order for their stories to become their strongest and to make the long journey to the screen. It seems to have worked, launching so many careers and creating a body of work that previously didn't exist."
He added, "One of my greatest accomplishments has been for us as an Institution to publicly acknowledge the ancestral keepers of the lands where we host our labs and festival, the Ute Tribal Nation. This acknowledgement has become a newfound tradition before every film screening and public event at our festival. We have also begun to acknowledge the ancestral keepers where we have offices, in New York on Lenape lands, and in Los Angeles on Tongva territory."