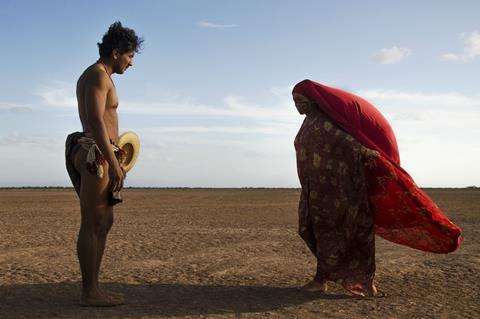 Colombian drug war saga Birds Of Passage from Cristina Gallego and Ciro Guerra is among more than 20 selections in the eighth IFF Panama's Iberoamerican line-up.
"This year we bring IFF Panama a creative and intelligent section with the best productions of our cinema," said IFF artistic director Diana Sanchez. "It is a selection that includes works internationally celebrated by critics and audiences. They are very different films, in genre and theme and countries of production.

"This programme aims to show a broad range of the most important productions from the regional landscape. We believe that through these films we can take the pulse of the times we live in."
The selection:
The Accused (Acusada)
Gonzalo Tobal
Argentina-Mexico, 2018
Belmonte
Federico Veiroj
Uruguay-Spain-Mexico, 2018
Loveling (Benzino)
Gustavo Pizzi
Brazil-Uruguay-Germany, 2018
Ché, Memories Of A Secret Year
Margarita Hernandez Pascual
Brazil-Argentina, 2018
The Maid
Lila Aviles
Mexico, 2018
The Flower Of Life (La Flor De La Vida)
Adriana Loeff, Claudia Abend
Uruguay, 2017
The Dead And The Others (Chuva E Cantoria Na Aldeia Dos Mortos)
Joao Salaviza, Reneé Nader Messora
Brazil-Portugal, 2018
The Good Girls (Las Niñas Bien)
Alejandra Márquez Abella
Mexico, 2018
Las Vegas
Juan Villegas
Argentina, 2018
The Kings
Bettina Perut, Ivan Osnovikoff
Germany-Chile, 2018
The Sharks (Los Tiburones)
Lucia Garibaldi
Uruguay-Argentina-Spain, 2019
Birds Of Passage
Ciro Guerra, Cristina Gallego
Colombia, 2018
The Dead Queen (Pedro E Ines)
António Ferreira
Portugal-France-Brazil, 2018
Raia4
Emiliano Cunha
Brazil, 2018
Altarpiece
Alvaro Delgado Aparicio
Peru, 2018
Red (Rojo)
Benjamin Naishtat
Argentina, 2018
Florianopolis Dream
Ana Katz
Argentina-Brazil-France, 2018
Too Late To Die Young (Tarde Para Morir Joven)
Dominga Sotomayor
Chile, 2018
Hunting Season (Temporada De Caza)
Natalia Garagiola
Argentina-France-USA-Germany-Qatar, 2017
Being Impossible (I, Impossible)
Patricia Ortega
Colombia-Venezuela, 2018
Yuli
Icíar Bollain
Cuba, 2018
IFF Panama runs from April 4-10.