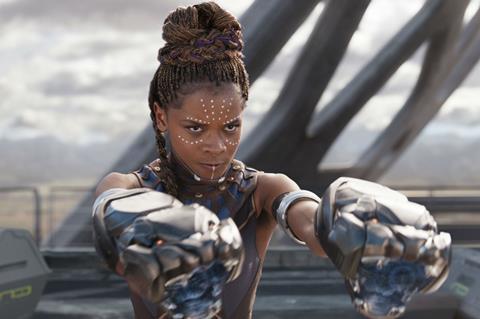 Production on Marvel Studios' Black Panther: Wakanda Forever will go on temporary hiatus as Letitia Wright recovers from an on-set injury sustained in August.
It is understood the studio will shut down production in around two weeks' time ahead of Thanksgiving week (November 22) and resume in early 2022.
Writer-director Ryan Coogler has been filming scenes not involving Wright, who plays Black Panther / T'Challa's sister Shuri and was turned into the lead character of the sequel after Chadwick Boseman's death in August 2020.
Wright was injured during a scene involving a stunt rig in Boston and it is understood she has been convalescing in London.
Black Panther: Wakanda Forever is scheduled to open on November 11, 2022. Black Panther opened in February 2018 and became a critical and commercial hit and a cultural phenomenon. It grossed more than $1.3bn at the worldwide box office and earned seven Oscar nominations, winning three for original score, production design and costume design.