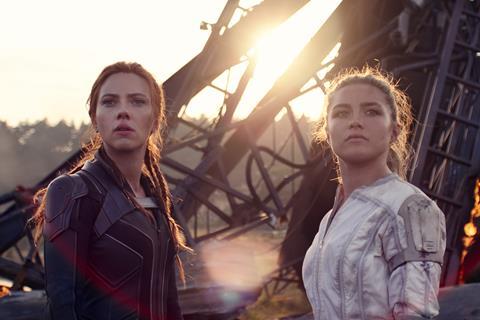 Worldwide Box Office July 16-18 2021
| Rank | Film (Distributor) | 3-day (World) | Cume (World) | 3-day (Int'l) | Cume (Int'l) | Territories |
| --- | --- | --- | --- | --- | --- | --- |
| 1 | Black Widow (Disney) | $56.1m | $264m | $29.9m | $132m | 49 |
| 2 | Space Jam: A New Legacy (WB) | $54.6m | $54.6m | $23m | $23m | 65 |
| 3 | Chinese Doctors (various) | $43.9m | $136m | $43.9m | $136m | 1 |
| 4 | Fast & Furious 9 (Universal) | $36.2m | $591.2m | $28.6m | $436.4m | 58 |
| 5 | Escape Room: Tournament of Champions (Sony) | $12.2m | $13.3m | $3.4m | $4.5m | 19 |
Credit: Comscore, all figures estimates
'Black Widow' tops global chart with $56m weekend
The second session for Disney's Black Widow at the global box office is already proving a contested topic. On background, Disney has indicated that a 67% drop for North America is right in line with expectations for the Marvel title, coming off the highest domestic opening weekend of the pandemic era and strong midweek results last week.
But the National Association of Theatre Owners labelled the drop "a stunning second weekend collapse in theatrical revenues" for "such a well-made, well-received, highly anticipated movie", pointing the finger at the $200m-budget film's simultaneous availability on Disney+ Premier Access.
In international markets, Black Widow fell a gentler 55%, with an estimated $29.9m from 48 territories, and a total of $132m. In North America, the film took an estimated $26.3m for an identical total of $132m. Globally, the film has reached $264m.
Black Widow remained the top film in Brazil, South Korea, Italy, Russia, Spain and UK, as well as 17 smaller markets, and opened top in both Taiwan and Uruguay.
In cumulative totals, South Korea leads the international rankings for the film with an estimated $19.1m, followed by UK ($15.6m), France ($11.5m), Australia ($7.9m), Mexico ($7.9m), Russia ($7.0m), Japan ($5.6m), Germany ($4.6m), Brazil ($4.5m), Italy ($4.3m) and Spain ($4.2m). Capacity restrictions apply in most markets, while Australia, South Korea and Japan all saw further restrictions introduced in recent days.
At the international box office, Black Widow was beaten by Chinese Doctors, which grossed $43.9m in China in its second session – for a $136.1m total.
'Space Jam: A New Legacy' launches with $55m global session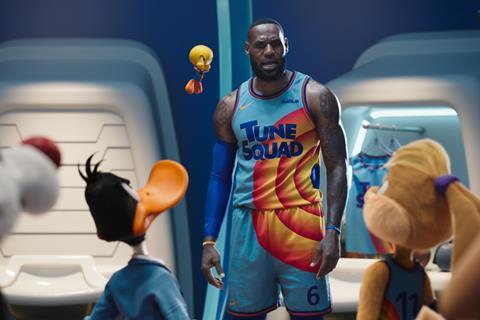 UPDATED: Variations in the global appeal of basketball were reflected in the box office results of Warner Bros' Space Jam: A New Legacy – the sequel to the original 1996 live-action/animation hybrid. The film stars Los Angeles Lakers' LeBron James and the Looney Tunes characters.
Space Jam: A New Legacy opened on $31m in North America (unexpectedly knocking Black Widow off the top spot, and the largest domestic opening for a family film since the beginning of the pandemic), and $22.1m from 63 international markets – combining for a $53.1m global total. Warner Bros estimates that the international footprint so far represents 60% of the total international business.
Australia (where the nation's basketball team the Boomers defeated Team USA in an exhibition match last week) and Mexico proved the star performers in international markets. In Australia, significant previews helped push the opening tally to a robust A$8.7m ($6.5m), but even ignoring previews Space Jam: A New Legacy succeeded in pushing Black Widow from the top of the box office. Greater Sydney and the whole state of Victoria are currently closed in lockdowns.
Mexico likewise saw a chart-topping opening, with an estimated $3.1m. In the UK, the film opened in second place (behind Black Widow), with a confirmed $1.9m.
The original Space Jam, starring Michael Jordan, grossed $90.4m in North America, $140.0m for international and $230.4m worldwide.
Space Jam: A New Legacy opens this coming weekend in France, Spain and Chile.
'Fast & Furious 9' boosted by fresh openings
UPDATED: New openings in France ($9.4m) and Germany ($6.8m) helped propel Universal's Fast & Furious 9 to a sturdy $29.1m for the July 16-18 weekend in international markets, taking the international total to $436.8m. Add in $154.8m for North America so far, and the global tally stands at $591.7m.
In France, the film delivered an impressive Bastille Day Wednesday of $3m. The $9.4m opening is the biggest of the pandemic era, beating Black Widow.
In Germany, the $6.8m opening is by far the biggest opening of the pandemic era, despite cinemagoing being impacted by flooding in various states and more than 50 sites unable to operate.
Belgium debuted with $1.7m, the biggest opening of the pandemic era, despite closures caused by flooding.
Fast & Furious 9 is now 48% of the way to matching Fast 8's global total of $1.24bn, which comprised $226m in North America and $1.01bn in international markets. Spinoff Hobbs & Shaw grossed $759m worldwide in 2019.
Next key markets for Fast & Furious 9 are Japan (August 6) and Italy (August 18).
Also for Universal, DreamWorks Animation's The Croods: A New Age added $6.2m in international markets, boosted by new openings in UK/Ireland and Italy, taking the international total to $132.4m, and the global tally to $190.9m. The Croods grossed $587m worldwide in 2013.
'Escape Room: Tournament Of Champions' delivers $12.2m session
UPDATED: North America proved the strongest component of the weekend box office for Sony's Escape Room: Tournament Of Champions, sequel to 2019's Escape Room. In the domestic market, the horror film began with $8.8m. For international, the film expanded from its opening market in Australia to another 17 territories, grossing $3.3m for the weekend session. These numbers combine for a $12.1m weekend globally, and a $13.2m total.
International highlights were South Korea ($972,000) and Middle East ($900,000). Australian total is $1m after three weekends on release.
Upcoming key markets are Spain (July 30), France (August 11), Germany (August 19) and Mexico (August 26).
Also for Sony, Peter Rabbit 2: The Runaway took an estimated $2.5m at the weekend, taking the international total to $105.9m. Globally, the film has reached $145.2m.