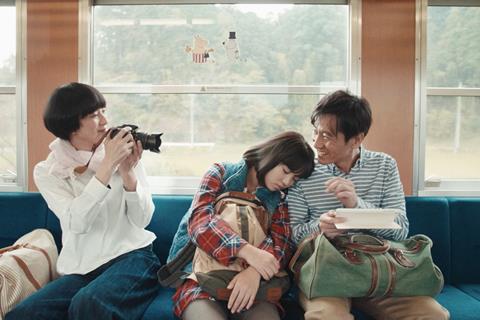 Hong Kong-based sales agent Pearl Chan and programmer Ariel Esteban Cayer have launched a Blu-ray label, Kani Releasing, to distribute Asian films, both contemporary and restored, in North America
The label aims to support up-and-coming filmmakers as well as reintroduce underseen repertory classics from acclaimed directors to North American audiences. Its first release is Japanese filmmaker Tadashi Nagayama's second film, Being Natural (2018), which starts preorders today.
Upcoming releases include a restored version of Cain & Abel (1982), from the Philippines' Lino Brocka; and two further Japanese titles – Akiko Ohku's Tremble All You Want (2017) and Daisuke Miyazaki's Videophobia (2019).
Kani has partnered with US-based OCN Distribution on the label, which takes its name from the Japanese word for 'crab', in reference to Yasujiro Ozu's custom-made tatami-level tripod. OCN is the sister company of Connecticut-based Vinegar Syndrome and distributes the company's partner labels, including AGFA, Dekanalog, Fun City Editions, Utopia, and others.
Chan is the founder of Good Move Media, a Hong Kong-based boutique sales agency that focuses on new talents in East and Southeast Asia. Cayer oversees the Camera Lucida section and co-directs the Asian programming at Fantasia International Film Festival in Montreal, Canada.
"Kani is a unique opportunity to bring underseen films and exciting new voices directly to their audience and, in doing so, expand the scope of the curation currently available on home video in North America. We're taking a careful approach to every film and believe that, beyond festivals and the ubiquity of streaming, home video has proven to be a great, even timeless, way to keep films alive and in people's minds" said Cayer.
Chan added: "The idea that Asian American content has to do and be everything for the extremely diverse community that the term encompasses puts a lot of weight on the shoulders of our creators. Looking to a wide range of Asian cinema as a child of two worlds, I've never had a lack of representative media and we hope to bring a few more options to the table in North America."
Starring Yohta Kawase, Being Natural tells the story of a small town slacker, his cousin and friend, whose plans to do nothing are threatened when a Tokyo family move into the area to open a café. Nagayama's first film, Journey Of The Tortoise, won the Grand Prix at Japan's Yubari International Fantastic Film Festival in 2017.