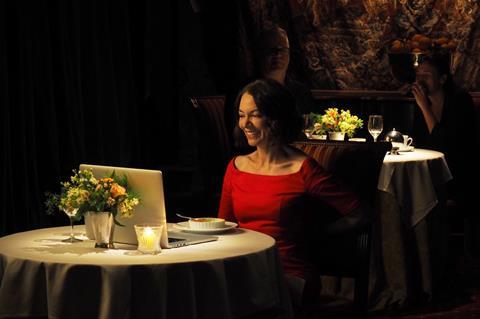 Blue Fox Entertainment has boarded worldwide rights to American Zoetrope's ensemble comedy drama Love Is Love Is Love and its international division will commence sales at the virtual EFM next week.
Blue Fox's US division has set an autumn theatrical release on the film directed by Eleanor Coppola (Paris Can Wait). ICM Partners brokered the deal with Blue Fox Entertainment on behalf of the filmmakers.
Love Is Love Is Love comprises three stories exploring love in all its forms and features an ensemble cast of Rosanna Arquette, Kathy Baker, Marshall Bell, Maya Kazan, Chris Messina, Cybill Shepherd, Joanne Whalley, and Rita Wilson.
The first story Two For Dinner (pictured) stars a married couple (Whalley, Messina) who find an unconventional way to transcend long distance through technology and discover they were farther apart than they knew.
In Sailing Lesson, a long-married couple (Baker, Bell) try to reignite their honeymoon phase heat through a spontaneous sailing trip.
Late Lunch centres on a young woman (Kazan) who gathers a group of her recently deceased mother's friends (Shepherd, Arquette, Wilson) to share memories.
Coppola co-wrote the screenplay with Karen Leigh Hopkins (Miss Meadows) and Anahid Nazarian (Tetro, Youth Without Youth) produced.
Love Is Love Is Love premiered at 2020 Deauville Film Festival and also was also an official selection at 2020 Tribeca Film Festival.